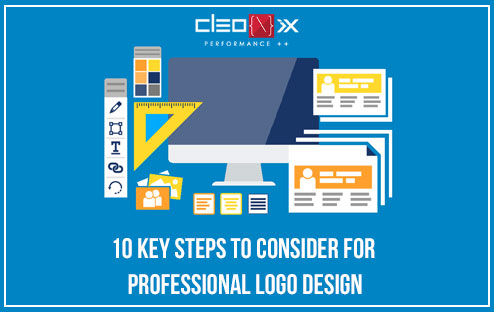 A logo plays an essential job in branding. It helps to identify a brand by acting as an emblem or symbol. It speaks with the focused audiences. A logo also guarantees that the following product is not fake, but is branded. Here are 10 essential tips on your way to the perfect logo.
01. Learn logo
An effective logo is distinctive, suitable, practical, graphic, simple in form and conveys a message. In its simplest form, a logo must be identified, but in order to do so effectively, the basic principles of logo design must be followed:
> A logo should be straightforward.
> A logo must be unforgettable.
> A logo must be enduring.
> A logo should be adaptable.
> A logo should be appropriate.
02. Establish your own design process
Each designer has his or her own procedure, and it is rarely linear, but in general, this is how the branding process is completed, which can be used as a guide for your own development.
03. Ask the right questions
Before you start your development, get as much data as you can from the customer about their business, objectives, target market, etc. Try your service or product if possible. Also, visit their store -really get to know them and their requirements.
04. Price your work accordingly
" How much?" is the most common question and can not be answered easily because each company has different needs and expectations. When designing a logo/brand identity, you must consider a number of factors. Being smart in figuring out what you should charge for your work will hopefully allow you to 'work less, charge more' in the future."
05. Learn from others
By recognizing what other brands have succeeded in and why they have succeeded gives you great perception and you can apply that attained knowledge to your own work. Check out the Logo Of The Day for more quality logos or go to your local library/book store and check out some branding books. Additionally, make sure to check out some of these logo design process case studies.
06. Make use of the resources
There are hundreds of resources available, both offline and online, that are dedicated purely to a logo and brand design.
07. Choose the right font
With regards to logos, picking the correct font can make or break the whole design. Font choice can often take as long as the creation of the logo mark itself, and both the font and mark should work towards the same goal(s).
08. Avoid the clichés
How is your design going to be unique when so many other logos feature the same idea? Stay clear of such visual clichés and come up with an original idea and design.
09. Limit the concepts sent
Go wild exploring ideas, however, don't provide your client with an excessive number of alternatives. A good rule of thumb is to just send one to three concepts that you personally could see working for their business. Of course, the number of concepts you send can change from project to project, but once you feel confident enough as a designer, these ones to three concepts should nail the project on the head every time.
10. Deliver the correct files
Providing the correct files to your client is one way to ensure that your client never returns to request revisions or different logo versions. It also ensures that the logo is correctly displayed under all circumstances and supported by a style guide.
Looking for a Logo Design Agency
Cleonix Technologies, a leading web design company in Kolkata, India, offers logo design services at the best prices in the industry. The company offers budget logo designing deals. Professional and experienced designers work together to plan a logo design. The task is accomplished in the given time frame. Various logo design services at different prices are offered. One of the best parts of the company is that they listen to clients to work on their dreamed symbol design project.