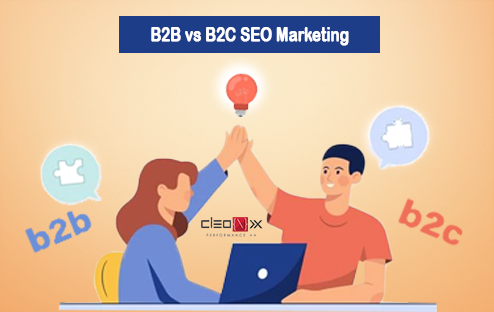 In the fraternity of e-commerce, the primary goal of a business is to reach its target audience. Brands can boost their sales figures and thrive in the market if they can reach out to the right customers. And we all know how crucial a role Search Engine Optimization or SEO plays in getting noticed in the digital sphere.
Therefore, most e-companies spend a substantial amount of money to develop an effective marketing strategy and a powerful SEO. But are all the SEO strategies work in the same manner? Of course, not! Despite the fact that the ultimate goal of a business is to serve the customers, SEO depends massively on the type of business you're dealing in.
There are mainly two types of business models online, i.e., Business-to-Business (B2B) and Business-to-Customer (B2C). Both have different SEO requirements. In this blog, let's take a look at some of the major differences between B2B and B2C SEO strategies.
B2C and B2B Business Models in A Glance
B2C (Business-to-Consumer) is a process that offers your products and services to the interested customers directly. Here, the customers will find your company while browsing for their desired products and services. If a customer is satisfied with your product, he/she will buy it through an online transaction portal. Amazon is one of the leading and globally acclaimed B2C brands thriving in the market.
On the other hand, a B2B (Business-to-Business) organization sells its products and services to another organization instead of customers. Here the selling process has its own complexity. In fact, it takes several months for a company to make a name for itself and proceed with a transaction. Therefore, the B2B transaction requires more advanced and layered SEO strategies. Most of the automobile industries thrive on the B2B business model.
>> Major Differences Between B2B and B2C Marketing Campaigns
The following points shed light on the major differences between B2B and B2C SEO strategies.
Keyword and Language Usage :-
Both B2B and B2C uses keywords and specific languages to reach their target audience. However, the phrases and terms are far more complex in B2B SEO strategies. For instance, a customer doesn't care what technology a company uses to keep the food fresh. But on the other hand, a company selling CRM software needs to explain everything to their potential buyer. So, the languages are a bit more technical in B2B when compared to B2C.
Marketing Goals :-
B2B and B2C, both create effective marketing campaigns with only one lookout, i.e., to generate sales. But in B2B, most of the transactions don't take place online. So, the main purpose of a B2B campaign is to drive conversion instead of boosting the sales figure immediately. Whereas B2C campaigns thrive on immediate conversions and sales results.
Purchasing Decisions :-
Generally, in the case of B2C, only one person, i.e., the customer takes the purchasing decision. But in B2B, the purchasing decision depends on multiple individuals. So, all the individuals can perform their respective market researches to find other options. In addition, each person will use their own experience, responsibilities, and concerns for the research. Hence, the SEO strategies in B2B do take multiple individuals into account.
The Bottom Line
These are some of the major differences between a B2B and a B2C SEO strategy. However, it entirely depends upon your choice regarding which SEO strategy to pick for what e-business purpose. So, choose wisely!