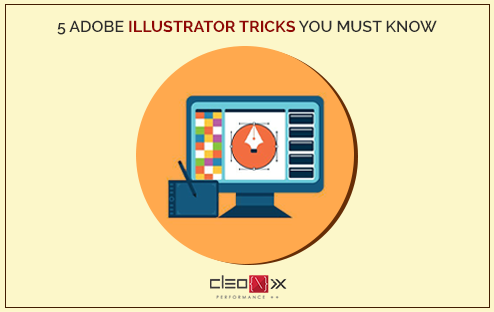 Adobe Illustrator is a very popular vector graphics editor developed and marketed by Adobe Inc. It was originally designed for the Apple Macintosh, and the development of Adobe Illustrator began in 1985. Illustrator CC was released along with Creative Cloud.The latest version, Illustrator CC 2019, was released in October 2018 and is the 23rd generation in the product line. It was reviewed as the best vector graphics editing program in 2018 by PC Magazine.
If you are a graphic designer & passionate about your career then you must read this blog. Here we'll discuss 5 adobe illustrator tricks that you must know.
1.Command (or control onPC) + D Shortcut:This shortcut allows you to create copies of an object that have equal spacing Using this shortcut you can save your time.
2.Shape Builder: It's similar to the pathfinder tool – which is a great tool – but the shape builder tool can accomplish the same things just fine and it's more user friendly.
3.Draw Behind/Draw Inside: Basically, there are two little buttons in the Illustrator toolbar that allow you to draw behind an object or inside of it. It saves from moving things behind or create clipping masks.
4.Try Using Clipping Masks: This tool makes your work a very easier, and every beginner should use them. It keeps under control of any pattern or design to an area. If you can use them properly, they can save a lot of time.
5.Width Tool: The new tool of Illustrator CC is at the same time very simple to use. This tool allows to physically draw out part of a path to create varying widths in your stroke.
"Cleonix Academy" under "Cleonix Technologies" is a Kolkata based Web design training institute specializing in Website Design, Graphic Design, Web Development, Digital Marketing, Search Engine Optimization.For learning more about Adobe Illustrator contact now.