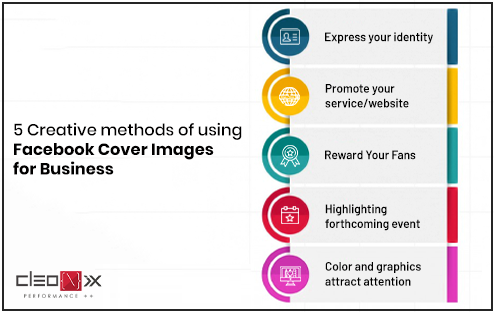 It is most likely the first step towards creating an internet presence for most brands to create a Facebook fan page. With more than 50 percent of active users on social platforms (states from GlobalWebIndex) hooked to Facebook, there is huge scope to create a brand image and captivate probable prospects. The only concept to have a Facebook page is to capture the attention of the mass, thereby making a brand declaration and producing more leads for your company.
1. Express your identity:
To demonstrate how individuals use a product or service, you hear a lot about using video. Photos offer the same possibilities. When you're showing your product in your Facebook cover picture, you're planting thoughts with your clients that can inspire them to communicate with you. Any kind of visual material is an enormous marketing component, and it's one of the best ways to demonstrate who you are and the character behind your company. Your cover picture is an excellent place to display content that aligns with how you are presenting your brand online elsewhere.
2. Promote your service/website:
You can count on the cover promoting your services or website. This would assist you to attract some traffic to your website/blog that can be used to make better conversions.
3. Reward Your Fans:
We're not reflecting love on products showing love for us?
Spreading some love to supporters of your brand can attract the attention of the mass. You can do this by recognizing the allegiance of your supporters.
Check out how this was set up by KFC. This is an excellent fan / like bait for sure and a prospective share on the walls of the fan.
4. Highlighting the forthcoming event:
This concept was mainly used by brands to create significant announcements; whether it was a contest winner, a fresh company wing, fresh product, launch dates, gifts, an event, offers and offers, etc. Doing this can help you reach fans of your tabloid who generally don't check your newsletters. Updates to the Facebook fan page are verified more often than not.
5. Color and graphics attract attention:
Using flashy colors can assist attract attention to where you want it. Sometimes the cover can be something that has no direct influence on your company and yet gets into your prospects and fans' impression. Playing around designing abilities and managing to upload an enticing picture as the cover can shoot up your cover's likelihood of being liked and shared; thus virtually circulating your Facebook page.
Cleonix Technologies provides a range of digital marketing and graphics design services like SEO, SEM, PPC, FB cover photo designing. We have in house experts with 24/7 support via email and phone.