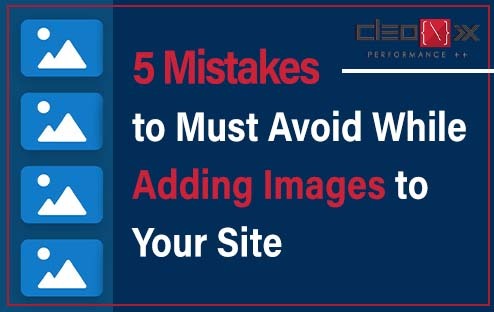 Customizing your website and adding relevant images is an important part of the SEO process for your website. Relevant and interesting images attracts people to your site, increasing your web traffic which will result in your website possibly getting a better ranking in Google search. According to NewsCred, articles or blogs with images get around 94% more views than articles without images, 40% of people respond better to visual information than plain text, and around 93% of people consider images to be the no. 1 factor which affect the purchase decision-making. These surveys show how important images are for a website.
However, you can not just upload any images to your website anyhow you want. There are certain regulations and formats which you need to follow while uploading images to your website otherwise, it can negatively impact your website's SEO process. In this blog, we are discussing 5 mistakes which you need to avoid while uploading images to your site.
Large Images
With today's cutting edge and fast technologies, people do not have the patience to wait for long. Large images, even though they are beautiful to look at, makes your website sluggish and takes a longer period to load properly. This may result in losing web traffic. Most people wait around for 3 seconds for a image to load if they are using a desktop/laptop and a maximum of 5 seconds if they are using mobile or tablet devices. So if your image takes more than 5 secs to load, you may lose a visitor.
So, it is advisable to keep your image sizes under a few hundred KBs so that they can load quickly on any devices.
Image File Name
One of the most common mistake while uploading images to a website is not changing the image file's name. Generally, images have random names saved against them and it is not a good idea to use those default names while uploading it to the website. When it comes to SEO, you need to assign descriptive and relevant keyword related names to your images for better image optimization. This helps to increase your page rank as search engines not only checks the text content of your page but also keywords in your image names.
Image File Extension
Many people avoid this point or do not understand it properly but knowing the difference between the various image formats and when to use a particular format makes a huge impact on image optimization. There are a number of image formats available that one can use according to their needs. The most common types are :
• JPG or JPEG – This is the most common type of image format available over the net. They are good for color rich photographs and gradient images but they compress the file which can result in low quality images.
• GIFs – GIFs are common format for animations. They produce lower quality images than JPG and are generally used for simple illustrations and graphics.
• PNG – This another form of image format. PNGs support high quality images and rich color. As the quality do not degrade under this format, they are recommended for logos, charts and graphics.
• SVGs – It is vector format. Images of this format are free of resolution boundaries so they remain sharp and clear on any device.
Adopting a relevant format for your website's images can help to make your website quicker and free of technical abnormalities.
Image Description/ Alt – Tags
Just like adding image name, adding a description or alt-tag of your image is also an important part of the SEO process when it comes to image optimization. Alt-tags can be considered as the text alternative which can describe your images in case the browser can not render them properly. You need to properly implement the alt- tags with relevant keywords so that it helps your page rank but remember not to stuff too many keywords as that can be considered as 'black hat' SEO process. Another plus point of using alt- tags is that they can help the visually impaired to understand what your website is showing.
Distorted Images
Another point you need to keep a check on is image distortion. If your image seems too enlarged or stretched, it is probably distorted and you need to edit it. Remember to always use the original version of the image so that it stays clear and sharp. Distorted images can negatively impact your site. You can always use Photoshop and it's feature to compare between the edited and original version.
So, this were the common 5 mistakes that you must avoid while uploading images to your website. Remember, even small mistakes can hugely impact your search ranking negatively so you need to take care of even the smallest details, follow the regulations and implement proper formats.