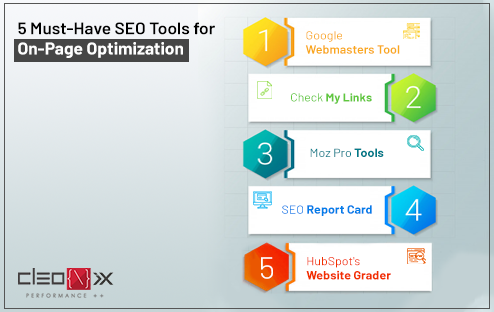 Search Engine Optimization is a place where you create your websites and use particular tactics to rank your sites higher on google search results pages usually using SEO tools. Higher the ranking, greater would be your site traffic and higher chances of possibilities.
SEO can be of two types: On-page optimization and Off-page optimization. Even though both the techniques aim at increasing your website's ranking, On-page optimization is what you do ON your webpages most of the times using top SEO tools. It could be page titles, keywords, backlinks, meta tags, etc. Off-page optimization refers to the things that are done OFF your website such as using social networking platforms, articles, and blogs, communities, marketing, etc.
In this post, let's take a look at the top SEO tools review and compare top SEO tools. These tools play a critical role in your website analysis and allow you to focus on such key elements based on Webmaster's guidelines.
Below are the top 5 SEO tools which could be used to audit your SEO:
1. Google Webmasters Tool
Ask Google as to how it sees your website. I.e. you could use Google's Webmasters Tool itself to know how Google sees your website, analyses and ranks it.
These are really user-friendly and free tools which help you with critical troubleshooting to improve the SEO performance. Using this troubleshoot report, you could customize your site for better performance.
This tool helps you to quarantine the malicious links in case if your site is hacked.
Google Webmasters Tool also provides PageSpeed Insights.
2. Check My Links
This free tool enables you to check if any of your external or internal links are broken.
This tool makes the editor's life easy to make corrections to the page as it rapidly detects the number of broken links on the page.
This tool indicates all the good links in green color and broken links in red which makes it easier to fix such inactive or broken links.
You may like: SEO & PPC service- What do you need?
3. Moz Pro Tools
Moz Pro tools offer a free trial for 30 days after which they have paid plans in various prices.
This all-in-one tool helps you to increase the search rankings of your site.
This tool easily identifies crawl ability factors of your website that are influencing your site performance.
Moz's tools help you identify the opportunities, build reports, track your website growth etc.
4. SEO Report Card
This is also another free tool which provides you a SEO Report card.
The report card provides a detail website assessment to compare it with your immediate competitors.
The SEO report card provides On-site Analysis, Rank Analysis, Link Building, Website Accessibility, Trust Metrics, Current Indexing etc.
5. HubSpot's Website Grader
A free tool which helps the brands to discover SEO opportunities.
This online tool generates reports based on the following metrics- Performance, SEO, Mobile Readiness, Security, etc.
HubSpot's also offers a wide variety of paid tools which provides in-depth analysis to uncover opportunities for website optimization.
Apart from these free tools you could also buy SEO tools which might help you with your requirements in specific. So, spend some time to gain knowledge about best tactics to boost your SEO, compare varieties SEO tools and use them to improve your site ranking.