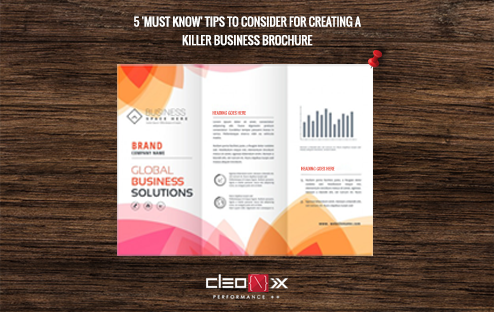 Are you faced with the task of designing a marketing brochure for your business or organization? If this is something you have never done before, the prospect can be quite daunting. Here are some indispensable tips to help you create a printed brochure with confidence. These tips will help you focus on your target market and deliver a clear, simple message about your business, organization, products or services that tells them exactly why and how you can best meet their needs.
1. Define Your Target Market and Focus on Their Needs
Your printed brochure must be geared towards your specific target market. Don't make your message so broad that it completely misses connecting with the very audience you are trying to reach. Research your potential target audience to find out what motivates them and what they need. When you have this information, you can tailor the content of your brochure to reach them in the most effective way.
2. Use Information-Packed Headlines and Subheads
Many people never read more than the headlines and subheads of a printed brochure, so it is essential that your headlines and subheads deliver your message in a clear and concise manner. Your readers should find your Unique Selling Proposition and Call To Action information just by reading your headlines and subheads.
3. Create A Cover with High Impact
The cover of a brochure is the first thing your audience will see. If it doesn't immediately grab their attention, they will never open it to read more. Your main message should be on the cover and presented in a way that captures the attention of your reader. A full-color eye-catching image or photo with a bold, clear copy on your brochure cover will compel your readers to open your brochure and learn more about your company, organization, products or services.
4. Design a Brochure that is Easy to Read
Copy that is conversational works best for your printed brochure. Do not use too much business or industry jargon that your readers will not understand or relate to. Remember to focus on their needs and tell them simply and precisely how you can best meet those needs.
5. A Simple Design Works Best
Do not go overboard when designing your brochure. With today's software, there are many special effects available, but be careful not to overdo it. A cluttered design can actually distract the reader's attention from your message and you do not want that to happen. Keep your information organized and relevant to your audience. Use only a few fonts and a color scheme that is consistent to enhance and better present the information in your printed brochure.
Be truthful and accurate when presenting information about your company or organization. This will help you make a lasting impression and your readers will better relate to you and appreciate your honesty and integrity.
Once you have your brochure design, look for an online printing company that can offer high-quality brochure printing. Research the printing service you plan to use. Look for a printer that guarantees quality, has low prices, quick delivery, and good customer reviews. Use a printer that offers help such as a production or design guide and brochure templates for their customers along with a variety of brochure sizes, paper finishes and folding options to ensure you get a professional quality printed brochure.
Cleonix Technologies is a leading Graphic Design Company which offers Business Card Design Services & Brochure Design Services in India at an affordable cost.