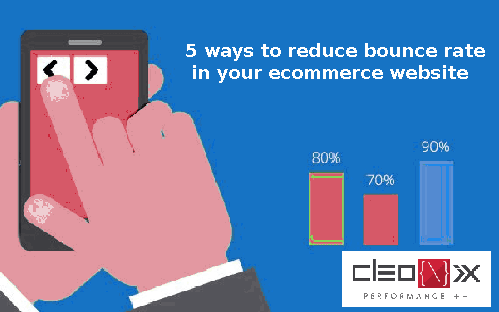 Bounce rate (sometimes confused with exit rate) is an Internet marketing term used in web traffic analysis. It represents the percentage of visitors who enter the site and then leave ("bounce") rather than continuing to view other pages within the same site.Bounce rates can be used to help determine the effectiveness or performance of an entry page at generating the interest of visitors.
1. Improve your content's readability: One cause that your target client might quit your site is a lack of readability. User experience begins when your content is readable and legible.Use short & simple word with proper typography & formatting.
Here are some ways to improve your content's readability:
Appropriate use of headers
Frequent subheadings
Suitable images
Bulleted lists
2. Avoid popups: In 2013, 70% of users said that they found irrelevant popups to be annoying. That probably hasn't changed – most people still hate pop ups.
3.Optimize page load time: According to data from Radware, a connection speed delay of just 500 milliseconds can result in an increase in "peak frustration" of more than 26%, and a decrease in engagement of 8%.Further, slow-loading pages are among the leading causes of shopping cart abandonment for ecommerce retailers. Amazingly, only 2% of the world's leading 100 ecommerce websites have mobile sites that load fully in less than five seconds on mobile devices – and one-fifth take almost eight seconds to load completely, an almost criminally long time for sites that live and die by conversion rate optimization.
4.Use sidebar widgets and promotions sparingly: Ecommerce pages are an ideal vehicle for offering relevant content, offers, and other material to your audience.However, cramming the digital margins of your content with ads, offers, award emblems, and other crap is a surefire way to overwhelm your visitor and tempt them to bounce.
5.Target Keywords With High-Value Traffic: Keywords can make or break your content marketing campaign. If you want to improve search performance, start targeting high-value keywords, because that's where the high-value traffic is.
Source:neilpatel.com , wordstream.com