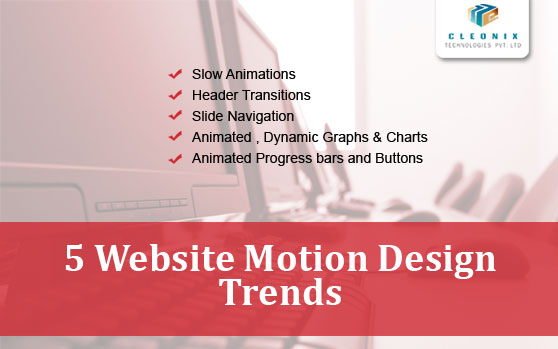 New trends of website designing is motion design trends.These features into a website can help gain a real advantage by improving users' experience and perception by making the site more interesting and unique.Here we will discuss five features.
Slow Animations:By introducing slow reveal animations that react to mouse movement or click get users more involved on a page .This can really help engage users with your content. We may bring some static backgrounds to life, by adding slow motion in some page's of the website.
Header Transitions:Simplicity is the main key to great design.Lots of websites are suffering from animation overload.So, just use simple, smart & appropriate header transitions.
Slide Navigation: Now a days push down navigation along with pull-out sliders are growing in popularity.This makes the design of the site much slicker & eye-catching.
Animated , Dynamic Graphs & Charts:Mainly graphs & charts are often used by websites to display important and useful data.The animated & dynamic features of graphs & charts make these more quicker to make & update.Dynamic properties such as animation and interaction making them more engaging & eye catching.
Animated Progress bars and Buttons:A progress bar is a graphical control element used to visualize the progression of an extended computer operation, such as a download, file transfer, or installation. Sometimes, the graphic is accompanied by a textual representation of the progress in a percent format.Use animated progress bars & buttons to give an eye-catching & unique look.