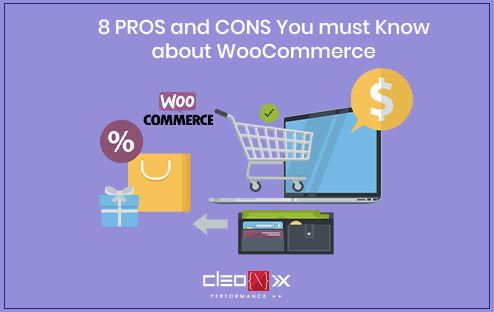 WooCommerce is one of the popular e-commerce plugin for WordPress. It is used by most of the online store in the world.
WooCommerce Pros
1. WooCommerce is free-
WooCommerce is an open source software.WooCommerce plugin is free of cost. You can use & update it totally free.
2. Professional & customizable-
Many free plugins are available to customize the WooCommerce plugin. Using it you can create user-friendly customizable websites. You can also download extra plugins to further customize your website.
3. Analytics-
WooCommerce gives lots of analytic tools & became the top choice of developers. With these tools, you can easily measure the sales and analysis.
4. Security-
Security is one of the most important factors in e-commerce. The customer needs to make sure that transactions are secure. Merchant of e-commerce site makes sure that they are providing security to their customers.WooCommerce is very secure because it's regular updates undergoes for security purpose.
5. Flexibility-
WooCommerce provides lots of functionality. You can change all the content easily. As example price, image, category and all.
WooCommerce Cons
1. Frequent WooCommerce updates-
Many customers are dissatisfied about the update of WooCommerce. It updates very frequently.
2. Effective knowledge to use-
This plugin requires effective knowledge to use. You have to know both the WordPress & WooCommerce for customizing it. You may need professional help for proper customization.Choosing WooCommerce is largely dependent on whether you're comfortable with using WordPress. Being fully integrated makes life easier for everyone, but WooCommerce without WordPress is like bread without butter.
3.SEO Feature-
SEO is the most important issue of the stores on WP and Woocommerce. Integrating SEO in WooCommerce is very complex method.This causes page doubling, canonical URLs, website and URL layout.