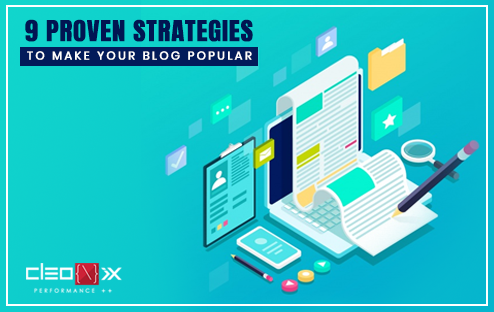 Every blogger's dream is Making a blog popular. It cannot be done just like that and we know it is not easy if you are new in the business world but if you are hard-working and are willing to learn and adapt, your success is guaranteed.
1.Customize your blog design:-
There can be no doubt about it that design matters. Every blog should have an exclusive design. People are attracted to something that is eye-catching and interesting. When a person visits your blog, the first impression is given by the design and this determines the span of time they spend browsing your blog. Now, if your blog has a crappy design, no one is going to go through it. Even if anyone visits it by chance, he/she might spend a few seconds before he/she leaves the show.
Practice brings perfection so keep tweaking and trying out a new layout, design, and navigation and focus on creating a unique user experience for your readers.
There are plenty of decent templates you can find online. It can be easily customized and if you know a little code, you can create awesome designs in no time.
2.Add Your Blog to Blog Communities:-
Blog communities are really popular for blogs. Other bloggers and web enthusiasts are constantly searching these communities for networking and information. There are many communities you can submit your blog to but it's better for you to go with the ones which are well known and have a decent Google page rank.
A list of top articles and blog directories are there, so check them out before you submit your blog right away.
When you follow a blog you are basically increasing your visibility in the community. Many people will check you out and also subscribe to your blog if you maintain a good standard. Always try to participate in a network and engage yourself in conversations. Whether you write a blog post or a comment, you must make sure it adds some value to the community.
3.Write Tutorials and Pillar Articles:-
Yaro Starak is one of the top bloggers. Yaro has always emphasized the importance of pillar articles. Now think about this, if you write an article about an incident on a certain day, the content is meant only for that day and with time it gets faded away. But, if you write a How-to Article or a tutorial that solves a problem, it's content stays there forever.
If you write something about "How to get rid of twitter spam or How to get loyal readers to your blog", you know that you can use these tutorials whenever you want to sort out an issue about this and they won't get out-dated because the same method would apply all the time. Lots of people will share it and mark it for future reference. Pillar articles are killers and you can easily write at least 5-6 a month.
Check out the WordPress hacking prevention guide which got shared over a thousand times by various social networks. The post was retweeted more than 700 times and is growing every day. It's really not a big deal to see such numbers especially when your posts are of significance and solves a community problem.
4.Be a Guest Author on Popular Blogs:-
Most blogs you will find these days accept guest posts. Popular blogs like ProBlogger, Shoemoney, john chow just to name a few; they all give new bloggers a chance to get noticed as a guest blogger. Now, this is a fantastic opportunity and one should not miss it. You can't just post anything you like but it should be related to the niche and you have to prove your worth. One blog post on some of these popular blogs can bring you a huge amount of traffic.
How to find blogs that accept guest posts? How about you Google terms such as "guest post by" or you can check out this blog post on kissmetrics that will give you the information on guest blogging in details.
Writing guest posts is a truly interesting way to get noticed and drive traffic to your blog. Don't forget the link point you get and waves of new subscribers.
5.Give Something to Download for Free:-
Everybody loves free stuff, isn't it? A good way to attract readers and make your blog popular is to give free stuff to the public. It can be an eBook, a WordPress theme, some popular tools, or even free online classes. Based on the experience from my other blogs, people love free things especially when they are premium and valuable.
There are several PLR contents that you could give away to your readers. Whatever you want to give, make sure it is worth downloading. If you wouldn't download the free stuff yourself, you can't expect others to download it either. Quality matters my friend and if your stuff is good, people will just keep visiting.
6.Blog Frequently:-
New content is the key to your blog's success. You just can not blog once a week and expect people to check in every day. Your readers are interested to gather new information and they expect to see something remarkable and new on your blog frequently. we know sometimes you can get occupied and have days when you don't feel like writing a new blog, and it is absolutely ok. If blogging is your passion, you will find out time for a post.
If you follow a different blogging style such as Glen at viperchill who makes 1 – 3 posts per month. Glen has a unique style of creating blog posts. Most of his posts go above the 4000-word limit and he has a lot of lengthy pillar articles on his blog. And as a result, viperchill gets 10 times more traffic than most other blogs combined in a similar niche. This is proof that quality content rides over the quantity of posts.
Whatever style you pick up, make sure your content is unique because, at the end of the day, that is what matters the most.
7.Link Love:-
One of the best ways to get your blog noticed is to pick up links with other bloggers in the same niche. There are many ways you can approach a blogger or an author and request for link love. You can send emails to them (make sure you don't spam), you can make a comment on their blog post and request and of course add them on your Facebook account and discuss it.
The best way to achieve link love is through guest blogging as mentioned earlier. Try to create some great blog posts in some popular blogs and you will get both traffic and quality back-links.
8.Create a Facebook Page and Promote it:-
Facebook pages are on the rise in popularity. Check your account and tell me how many invitations you got to join a page. I am sure it's a lot. Create a Facebook page for your blog and start sharing it with other millions of Facebook users. You can also set up your blog's RSS Feed on the Page itself so that people can check out your posts without even visiting your blog.
There are lots of amazing Facebook apps that you can use to consolidate your blog with Facebook and make sharing an easy option. Some good methods you can use to promote your Facebook page is by adding a widget on your blog, adding a popup like a button, writing a blog post on it and also adapting the page details in your newsletter. Facebook is huge and the traffic is legitimate. The faster you create your page and get included with it, the better social presence you will have.
9.Get a Twitter Account and Tweet your Posts:-
This is for sure that by now most bloggers have a Twitter account. Forget bloggers, pretty much everyone has a twitter account today, and they use it to broadcast their daily activities which are not at all significance. There is no problem in doing that but to make it a little more productive, it is better to tweet your blog posts to your followers instead.
People follow you because they would like to share things with you. When you tweet, they are most likely willing to check it out. I like the idea of microblogging because it makes it easy for you to share your opinion with the world. Achieving the status of a celebrity on Twitter is everyone's dream. If you deliver value through tweets, you will create a huge network of loyal followers who will retweet your stuff which eventually directs massive traffic to your blog. Retweets matter. Remember, retweets do not only help in guiding traffic but also assist in search engine optimization.
We think you have found this article useful. We would really appreciate it if you share it and spread the word. Keep following the right thing, learn, and adapt, and, we are sure that your blog will reach new heights. For more blogs related to web design, web development, or SEO always keep in touch with us.