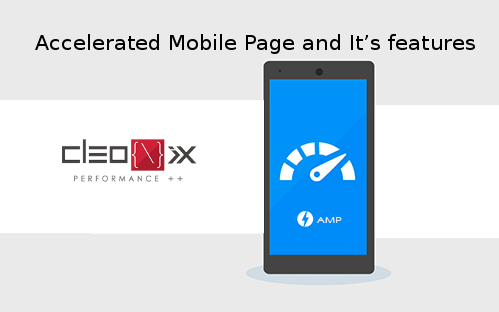 What is Accelerated Mobile Page:
The Accelerated Mobile Pages Project (AMP) is an open-source initiative to enhance the execution of web contents and ads through a publishing technology known as AMP. The AMP Project was officially declared on Oct. 7, 2015, with support from Google, Twitter,Pinterest, LinkedIn and WordPress and several publishers and other companies , for improving the performance of the mobile web. More than 30 news publishers and several technology companies were announced as initial collaborators in the AMP Project.
How AMP works:
So an Accelerated Mobile Page (or AMP, for short) is a project to make really fast mobile pages. At its essence, it's fundamentally a stripped-down form of HTML.The purpose for AMP is to be able to load their sites quickly on mobile since mobile responsive could be clunky and slow because desktop resources are heavy and plenty.AMP enabled web pages' optimization is powered by JavaScript and styling can be customized via CSS3. Most of the CSS can be used in the code but they have to be inline. Moreover the entire CSS sheet has to be of a maximum size of 50 Kilobytes. Most of the tags in AMP HTML are standard tags, but some of them are replaced to fit with the AMP components. The AMP JS library works to help render AMP HTML pages in a speedy manner, and Google's AMP Cache works to aid the cache of AMP HTML pages.To avoid the delay of rendering pages because of JavaScript, AMP allows for only asynchronous JavaScript.Resources that are external, like iframes, ads, or images, have to state their size within the HTML of the page so that AMP is able to determine the size of each element as well as its position before all of the resources are downloaded. AMP will load the layout of the page before the resources have been downloaded.Basically,AMP is a bare-bones version of your site's mobile pages. It displays content that matters but gets rid of all the elements that take a toll on your site's speed and performance.
AMP Pros:
1.It speeds up website load time: AMPs are lean, slick, and fast. Users enjoy pages that don't make them wait, so AMPs basically guarantee that your site brings in more visitors.
2.It step-up Higher rankings: Page speed has increased in importance as a ranking factor over 2016.Although AMP is not a ranking factor by itself, it has a positive influence on mobile ranking due to its faster load time.
3.Open to All Publishers: Accelerated Mobile Pages,can be used by anyone who is willing to optimize website. This has the potential to reach out to many readers around the world.
4.A free CDN: Part of Google AMP's success in speeding up pages comes from Google's caching of AMP content. Publishers can modify URLs to serve content directly from the Google AMP Cache (making it quicker).This is effectively a free CDN (content delivery network).
5.Traffic is growing: Those publishers that have implemented AMP are seeing increasing traffic.A DoubleClick study of 150 publishers in 2016 found more than 80% realized higher ad viewability rates on AMP pages compared to non-AMP.
AMP Cons:
1.Ad revenue is reduced: Accelerated Mobile Pages Project supports ads, the potential to bring in revenue is severely limited.
2.Analytics are a bit stripped: AMP supports Google Analytics but requires a different tag, which needs to be implemented on all AMP pages. Obviously, it takes a lot of time to place this tag and be able to collect and analyze data.
3.AMP offers limited functionality: AMP based websites lack external stylesheets, which automatically means it will not support UX features of website i.e: the same look and feel as a normal website will not get in AMP website.
Source: searchenginejournal.com, dynomapper.com, gizbot.com