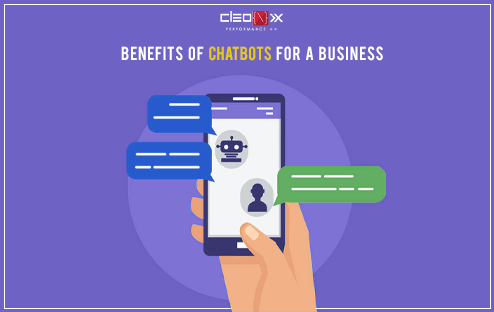 Chatbots have been on the rise since long years and have already faced a wide approval. They are bringing a new way for businesses
to communicate with all persons in the world and most vital with their customers by the help of exploding popularity of messaging apps, the accelerated development of all types of sensors, of course with the rise of emerging technologies and Artificial Intelligence.
Chatbots are being made to ease the pain that all industries are facing today. The purpose of chatbots is to support and scale business teams in their relations with their customers.
Chatbots may sound like an innovative approach, but according to Global Web Index statistics, it is said that 75% of internet users are adopting one or more messenger platforms. Although research shows us that each user makes use of an average of more than 20 apps a month,
wherein 80% of the time would be in just 5 apps. Assuredly among them are Facebook Messenger, Snapchat, Whatsapp,WeChat etc. This means you can comparatively shoot ahead with an app, but still, you have high opportunities to integrate your chatbot with one of these platforms.
A chatbot is mainly a computer program that can collaborate with humans over the internet. Their simulation of our language and behavior afford several benefits that can be used in your business.
Applications of chatbots in business:
1. Available anytime:
Surely most of the people are always kept on hold while operators connect you to a customer care executive. On average people allocate around 7 minutes until they are accredited to a person. Gone are the confront days of waiting in a queue for the next available operative.
They replacing live chat and other forms of slower contact methods such as their emails and phone calls.
2. Loading Capacity:
Unlike humans who can only communicate with another at a time, chatbots can simultaneously have conversations with many people. No matter what the time of the day it is or how many people are contacting you, every one of them will be answered immediately.
3. Malleable attribute:
Chatbots have a benefit that it can quite easily be used in any industry. Unlike other products where you have to do a lot of evolutions and measurement to change platforms, chatbots are relatively easy to switch. One has to train the bot by giving the correct conversation structure and flow to switch its current industry.
4. Customer Amusement:
We are all bound to change of emotions. Chatbots, are bound by some particular rules and obey them as long as they reprogrammed to. They will always behave with a customer in the perfect way no matter how rough the person is or how foul language the person uses.
5. Cost Adequate:
Hiring a person for a job is never a cheap affair and it will be costly if your revenue is not high or sales targets are not met and would create destruction in the business.
6. Faster Onboarding:
Before you want to bring about a task, you first must learn how to work on the task for the result. Then they will be considered fit for the job.
7. Work Industrialization:
People tend to be unproductive when given a recurring job. We usually get bored doing the same thing over and over again.
8. Alternate sales avenue:
Chatbots can sell your industry products for you because they are online 24/7. A recent study suggests that 70% of people prefer to texting rather than calling.
9. Personal Assistant (PA):
People can use Bots as personal fashion advisor for the clothing recommendations, or ask for trading tips from a finance bot and suggest places for the visit from a travel bot and so forth.
So What is Chatbot and Why it becoming a Big Deal?
1. Keeping Up with Trends: Present on Messaging Platforms.
2. Improved Customer Services.
3. Increase Customer Engagement.
4. Monitoring Consumer's Data & Gaining Insights.
5. Better Lead Generation, Adequacy and Nurturing.
6. Easier Access to Global Markets
7. Cost Savings: At first implementing a full functioning chatbot, is much cheaper and faster than creating a cross-platform app or hiring employees for each task.
At last, because all customers can easily access chatbots within seconds and start the conversation immediately, user acquisition is also combine with lower cost.
As we can see, Chatbots can be a proper back up for employees for relatively basic and repetitive tasks with great speed, cost-effective, easy to implement, maintain and use.