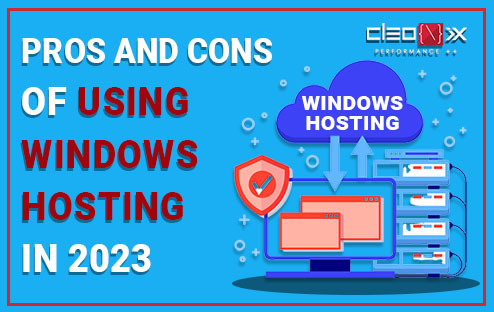 In the ever-evolving landscape of web hosting, making the right choice for your website's hosting platform is crucial. With the variety of options available, it's essential to weigh the pros and cons of each before making an informed decision. One such option is Windows Hosting, a choice that has been in the market for several years and has evolved over time. In this blog post, we'll delve into the pros and cons of using Windows Hosting in 2023, to help you determine if it's the right fit for your web hosting needs.
Understanding Windows Hosting:
Before we dive into the advantages and disadvantages, let's briefly understand what Windows Hosting entails. Windows Hosting is a web hosting solution that employs Microsoft's Windows Server operating system to manage and deliver website content. It's a popular choice for websites that are built using technologies such as ASP.NET, .NET Core, or those that require integration with Microsoft tools like Microsoft SQL Server or SharePoint.
Pros of Using Windows Hosting in 2023:
Compatibility with Microsoft Technologies: One of the standout benefits of Windows Hosting is its seamless integration with Microsoft technologies. If your website relies heavily on ASP.NET, .NET Core, or other Microsoft frameworks, Windows Hosting provides an optimized environment for these technologies to run smoothly.
Support for Microsoft Databases: Windows Hosting offers excellent compatibility with Microsoft databases, including Microsoft SQL Server. If your website requires a robust and scalable database solution, Windows Hosting can efficiently manage your database needs.
User-Friendly Interface: Windows Hosting typically includes the Plesk control panel, which offers a user-friendly interface for managing various aspects of your hosting environment. This is particularly advantageous if you're not well-versed in server management.
Security Features: Windows Server comes with advanced security features that can help protect your website from various online threats. Regular updates and patches from Microsoft contribute to a secure hosting environment.
Remote Desktop Access: Windows Hosting allows for remote desktop access, which can be handy for certain administrative tasks and configurations. This feature can be beneficial if you need direct control over your server environment.
Cons of Using Windows Hosting in 2023:
Cost: Windows Hosting tends to be more expensive than alternative hosting solutions, such as Linux Hosting. Licensing fees for Windows Server and associated Microsoft software can contribute to higher hosting costs.
Resource Intensive: Windows Hosting can be more resource-intensive compared to Linux Hosting, which might lead to slightly slower performance on lower-tier hosting plans. This might not be ideal for websites with high traffic or resource demands.
Limited Open Source Compatibility: While Windows Hosting has made strides in supporting open-source technologies, it may still have limitations when it comes to hosting websites built on popular open-source platforms like WordPress or Joomla.
Dependency on Windows Updates: While regular updates are essential for security, Windows updates can sometimes lead to compatibility issues with certain applications or scripts running on your website.
Less Common for Certain Web Applications: Windows Hosting is not always the best choice for certain types of web applications or scripts. Many developers and webmasters prefer Linux Hosting for applications like PHP, Perl, or Python-based websites.
Conclusion:
As you evaluate your web hosting options in 2023, it's essential to consider the specific requirements of your website and the technologies it relies on. Windows Hosting can be an excellent choice if your website is built using Microsoft technologies and if you require seamless integration with Microsoft databases. The user-friendly interface and security features also make it a compelling option for businesses and individuals who value convenience and data protection.
However, the higher cost, potential resource intensity, and limited open-source compatibility should also be taken into account. If your website relies heavily on open-source technologies or if you're working within a budget, Linux Hosting might be a more suitable option.
In the end, the decision between Windows Hosting and other hosting solutions depends on your unique needs and priorities. By carefully weighing the pros and cons outlined in this blog post, you'll be better equipped to make an informed choice that aligns with your website's goals and requirements in 2023 and beyond.
ALSO READ: 5 Best and Popular CMS Platforms of 2023