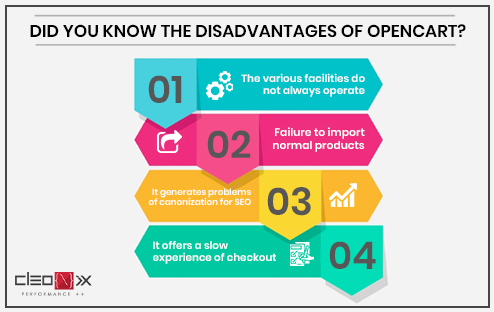 OpenCart is an open-source free e-commerce platform that enables anyone to build a website that enables clients to purchase products. This enables you to immediately scale your company while your focus can stay on effectively operating it. You can begin your shop free of charge, and free of charge are all updates and downloads.
1. The various facilities do not always operate together:
You will find that OpenCart module installation process is very similar to the WordPress installation process. Although initiating is simple, you will discover that extensions, add-ons, modules, and plugins do not always like working together. A mix that works well for your site can be a long trial and error scheme to come up with. In some cases, these disputes may be sufficiently serious to compromise your site's user experience.
2.Failure to import normal products:
This is a major disadvantage to be listed in our evaluation of OpenCart. By installing a suitable plug-in, it can be solved. But at the same moment, all the plug-ins We encountered operate on the basis of the following principle: brings products straight to MySQL, often replacing the already existing goods.
3. It generates problems of canonization for SEO:
When you begin constructing your platform with OpenCart, you will discover that creating multiple duplicate websites is one of its greatest issues. You will find that as you go through the design process, the same page on your website may have several different URLs. This creates an issue for your current SEO campaign and forces you to handle canonization at a coding level to avoid spreading too much of your link equity.
4. It offers a slow experience of checkout:
The checkout experience with OpenCart is slower than what you will find with other e-commerce platforms unless you choose to install extra plugins. It may be free, but some locations will feel disadvantaged by this platform.
For beginners and for intermediate programmers/shop owners, it's a very nice script. With nearly any amount of products, it works okay. It requires more server resources than Quick. Cart but much less than PrestaShop or Magento. You can use the open cart but be conscious of its disadvantages before using it.