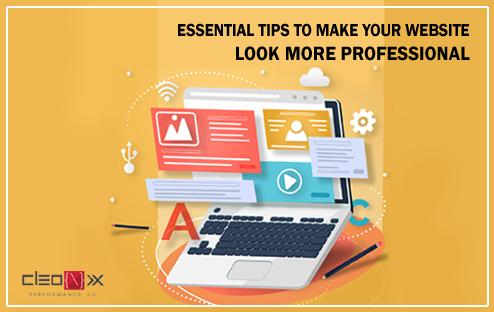 There are several web applications that can please your eyes but they fail to imprint a good impression to meet business requirements if your website design does not have a good appeal.
But when a professional website development company makes a web application, then they always take care of one important thing, i.e.; The first impression of your website must be long-lasting among your visitors.
In an online market, the audience has immense options but you as a service provider have only about 5 seconds. Your time is very limited to draw the attention of your visitor.
So you must have a professional web design that is able to put your brands' image among the visitors very seriously without causing damage to the reputation and business plans.
Whenever a user visits a website, they primarily notice the design, its responsiveness, its style, color scheme, content layout, while navigating over the web pages, and how loudly the message is being conveyed to the visitors.
These are the traits of professional web development. A website is a platform where you can put in engaging content, related to your products, and services. While the visitor is the supreme judge of everything at your site before making a purchase.
That is the reason we said that the first impression must last forever. If you want to create such a situation you have to get it done by a professional web design company.
There are many web development services in the market from where you can take help in website development. Here are 9 important tips to follow while you develop a professional web design.
Make Your Website Mobile Friendly
Nowadays, it's almost natural that online visitors at your website get connected from mobile devices like smartphones, and tablets. Furthermore, the mobile crowd over the internet is around 53%, and the desktop and laptop traffic is 47%.
This means the mobile has overpowered the desktops and laptops. This is why you need to get your site mobile responsive. You are required to optimize your website as per the mobile smartphones.
Now, what does it mean by mobile optimization? It means constructing your site in such a way that it must appear responsive to every mobile platform and operating system present all over the world.
Furthermore, your website should be able to adapt, small screen sizes, small fonts, compatible UI/UX, and easy navigation. While you design an idea for professional design, you have to consider making your website mobile responsive.
Reduce The Page Loading Time
It doesn't sometimes matter to the visitor how professional your website is in look & feel. If he or she had to wait for 8 seconds for the web page to load, then you would know that you have already lost the visitor.
According to the reports from Kissmetrics, if a web page takes a longer time to load, then the people start diverting from it; this increases the page abandonment rate.
Not only this, but the slow loading time has a negative on your website and affects your Google search ranking.
The loading time also affects page designs, programming, and development. Hence, you must do something to control the decrease in the loading time of every web page. The best is to bring it down under 3 to 5 seconds.
To increase your page load speed, you can optimize the code, reduce too many links, reduce the number of redirects, optimize the images, etc.
Choose The Best Design Option As Per Needs & Budgets
One of the most effective decisions that you have to make while you develop your website is whether you should use the template design or you will go for your own custom design.
At present days, there are a number of website templates whose job is to make web development easy and make professional-looking sites. On the other hand, custom websites involve more resources, time, manpower, and budget.
However, a template-based design can not be called at all a professional web development. But a custom site development has the power to include exclusive elements for increasing the overall web functionality. So, choose accordingly!
Use CAT (Call To Action) Buttons
A website with more than two CTAs at its every web page does not look professional. Also, it creates confusion among your visitors. As a result, you might lose your visitors on your web page.
Never confuse your visitors with more options. To attract their attention, make a professional website design by placing CTA buttons strategically on every webpage as a strategy.
Use High- Quality Images
Large and high-quality images always get the website loading speed slower, but visitors love to watch high-quality videos and images. Now what we can do to satisfy the audience is to keep the web page look more professional.
To attract the crowd with good quality images and increase the rate of conversion you upload them on your website. Optimization maintains the quality of the image but reduces the size of the images.
This is the way how with the help of quality images, you can make your website look professional.
Use Better Fonts
In website designing, the fonts are not just letters. With every color, they can choose their style also. Thus, choosing a professional font is really important.
Always choose the font style which matches your culture and business style and place it properly on your web page.
Color Scheme Should Be Good
The colors which you choose for making your website imprint a great impact on the design. So do not pick any color just because it is your favorite.
Keep Website Design Simple
Whenever you are occupied designing a website, your main focus should be on projecting the best experience UX/UI to the visitors and your online crowd.
For this, the best option is to keep the website structure, content layout, and web styling. If you try to deliver a vibrant experience with simplicity at its base, then you will create a professional web design!
Hire A Professional Web Design Company
You have already learned all the tips for designing a website in a professional manner! Implement all these professional web designing tips, make your website interactive, intuitive, attractive, mobile-responsive, and color impressive.