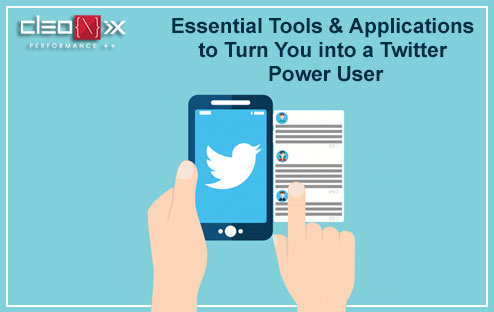 Twitter is an amazing tool for businesses when used correctly. It can help you to create leads, strengthen your branding and establish links with your prospects. Nonetheless, the challenge is getting more tightly and merchants are looking for some useful tools that gear up their Twitter marketing campaign.
Use these great Twitter tools and apps, and let us know how these work for you!
1. Buffer: The Buffer app can help you in a smarter way by letting you schedule the particular tweets regularly all through the day. This is an amazing strategy to tweet your target followers when they are online.
2. ManageFlitter: This tool helps you to better manage your Twitter account with valuable insights. The ManageFlitter has a simple interface that lets you figure out the image without a profile, inactive and fake accounts in your list.
3. Hootsuite: The Hootsuite app is an effective solution to manage Twitter, Facebook and LinkedIn account from a single place. This application allows you to easily manage multiple Twitter accounts and a special feature allows you to tweet multiple profiles automatically.
4. Audience: The Audience app also helps you to filter the searches based on many aspects such as the date you followed, date last tweeted, influence rate, date they followed, language, geographical location, and profile type.
5. Crowdfire: The Crowdfire lets you keep track of followers and helps you figure out if there are any inactive accounts in your list. You can follow them and reach those interested in your tweets, which is the first step in being established on the social network.
6. Klout: The Klout app ranks the profile users based on this aspect and you can utilize it to learn where you stand in the competition. This tool also helps you to find high- ranking people in your slot, who can help you make some strategic plans.
7. TweetDeck: The TweetDeck app is already acquired by Twitter Inc. and works from its interface. Online marketers use this app to track prospective customers ' real-time conversations. You can see the accounts which you follow under the mutual friendship tab. This lets you be up to date on the topics or people that matter.
8. Twitonomy: This is a great tool exclusively for Twitter marketing that allows you to have comprehensive visual analytics on mentions, replies, tweets, retweets, hashtags and more. The Twitonomy app also allows you to search, filter, browse and gain insights into the accounts and accounts you follow.
9. Tweepi: Do you want to know those accounts which you follow but they don't follow you back? The Tweepi app lets you quickly check the list of these not so favorable accounts. You can see the accounts which you follow under the mutual friendship tab. The other accounts that you follow but don't follow you back will be just shown in the following tab.
10. Bit.ly: The Bit.ly app works basically as a URL shortening tool but in fact, it offers a lot more than that. It has options to track the link clicks. The app allows you to share the links directly from your dashboard on any social media account including Twitter.
11. Twiends: This incredible app allows you to develop your Twitter follower completely free of charge. And it also helps moderate the community to filter inappropriate and counterfeit users. This feature enables long- term connections of quality.
12. Tweriod: The Tweriod app helps you to identify the most feasible time you need to send particular tweets that make the best impact. The app comes with special features to perform a proper analysis of both your followers' tweets and your tweets. And the app lets you identify the best time you can start tweeting for a particular audience.
13. Twtpoll: The Twtpoll app helps you get the feedback through several means such as questions, quizzes, photos, and videos. This is one of the best ways to empower your Twitter marketing by knowing the audience mindset.
14. GroupTweet: This app lets your team tweet from the same account without the need of sharing passwords. The GroupTweet app also lets you approve the Tweet from your email before it is made public. The other options that come with the tool include smart scheduling, contributor analytics, custom tweet format or retweet and more.
15. Paper.Li: The Paper. Li app uses social signals and natural language processing to explore and dig out the most engaging and relevant stories for you. By automatically delivering the content, this app lets you reach your prospects and audience despite wherever they are.
16. TweetReach: The TweetReach lets you do that by instant searching for a username, hashtag, or keyword. You can find out the top URLs and hashtags with reference to audience response. You will be informed of what works and what does not work in your Twitter marketing campaign with detailed competitive analysis.
These are just a few among the many advanced Twitter tools that can make your business a whole new level. Hopefully, you will find these Twitter tools useful to your social media marketing strategy.