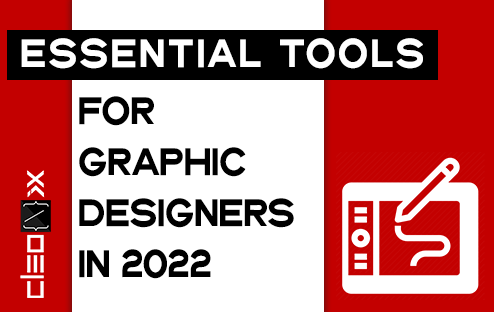 Earlier, graphic designers had some limitations while choosing pro tools for designing, but not anymore. In this current market, designers can easily choose from various options available which even include some open-source platforms. In fact, users are no longer restricted to using tools that only work on Windows and Mac operating systems.
There are various designing software and apps on iOS, Android, Chrome OS, and Linux. However, with all these options available in the market, designers might get confused regarding choosing the best one for them. So, in this article, let us discuss essential tools for graphic designers in 2022.
Four Essential Tools for Graphic Designers in 2022 >>
Adobe Illustrator :-
When it comes to setting a standard for designing logos, icons, infographics, and many more, Adobe Illustrator is the perfect choice for professionals. The users can easily work from a handmade sketch or painting to a vector image. Moreover, the image is scalable to any size. The software has a different approach when working with graphics. For effortless resizing, it uses mathematical calculations instead of pixels.
Pros
It integrates seamlessly with other tools from the adobe family
Easy to use interface
Users can choose templates or start from scratch
Cons
The subscription plans are expensive
The learning curve is high
Adobe Photoshop :-
Even non-graphic designers know the purpose of Adobe Photoshop. For some time, it has been the industry standard when it comes to graphic designing. So, there must be some reason for this immense popularity. For example, the vast collection of image editing tools provides a great user experience and extensive tutorials for any help. In fact, from artistic filters to the canvas size, users can have full control over everything.
Pros
Seamless integration with the Adobe family
It supports various formats, like PNG and JPG
Extensive collection of templates, tools, and more
Cons
The subscription plans are a bit pricey
Resource-demanding
Procreate :-
Procreate is a complete package when it comes to art studio but it is only available for Apple Pencil Support and iPad. There is no free or, trial available for Procreate, it's available only through one-time purchase. It offers users a wide range of templates, customizable brushes, and fonts. In fact, users can incorporate their photoshop features on the app, as it works better with the Valkyrie engine. Moreover, the app is also user-friendly.
Pros
Users can import their photoshop brushes
Apple Pencil Support
Wide range of tutorials in the library
Cons
The learning curve is steep
There is no free or trial version available
Affinity Designer :-
Affinity Designer is a good choice for personal projects and designers who are just starting out. The software can easily give a good competition to Adobe Illustrator in terms of designing tools. Moreover, Affinity designer is known for providing one of the easiest to use interfaces out there in the market. So, if someone is looking for a budget-friendly option without compromising on features, Affinity Designer is a perfect choice.
Pros
Customer service is excellent
Budget-friendly pricing
Unlimited artboards
Cons
The documentation can be confusing
No cloud service
Conclusion
While you are in the market looking for designing software, there will be a countless number of options from free to open-source. But you need to consider your requirements, capabilities and skillset. For instance, if you're just starting out, don't go for that software that is difficult to use. However, you can check out the four tools we have mentioned because they guide you around regardless of your level.
Read also:- JPG or PNG: Which is the best for Your Website?