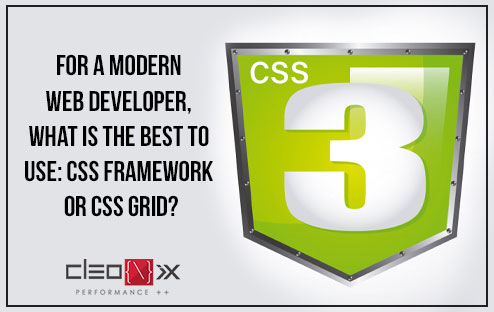 CSS Grid is a grid system which allows you to define rows and columns in your CSS without defining them in your markup. Web developers are able to build page layouts with native CSS code without depending on the HTML markup, except for the presence of the containing grid. Over the years, CSS Grid has constantly improved its role as a visual language adding features which allow it to do more without Flash scripting or additional JavaScript.
Below are a few reasons why CSS has more preference to Frameworks.
1. Simpler Markups
Your HTML will be cleaner if you use CSS Grid. While this might not be the most important benefits, this could be one of the first differences you notice.
2. More flexibility
CSS Grid lets you make HTML into what it was supposed to be. Layouts can be rearranged with ease with CSS Grid without worrying about the way the HTML is written. This is popularly known as source order dependence and makes the job much easier for web designers and developers.
3. No Column Limitation
With CSS Grid, your grid can have exactly the number of columns you want.
4. Browser Support
With CSS Grid, it is easier to create web layouts. The natively available layout in the browser renders numerous benefits. The use of Grid cannot be completely replaced by Framework as either of them is a complete drop-in replacement for the other.
However, the reasons for using frameworks are multiple and not only about the containing grid system. Listed below are some of the most common reasons for using the framework.
1. A Framework provides ready-made documentation
Creating documentation required skill and time. If you are working on a project with other web developers, then any internal system you create will also need documentation so that the other can use it. A Framework gives your team ready-made documentation.
2. Easy Starting Point available
When you attempt to build a certain component, seeking assistance using Grid can be difficult, however, using a framework can get you moving and should you require assistance, it will be about how to style or modify a particular component, the answer to which can be readily available on the web.
3. Practicality
You can deliver your projects sooner if you opt for a framework as it does not need a lot of customization. When you develop MVP for something new, a framework is a preferred choice. This way, using the framework you can prepare the first version more quickly and deliver it to your clients and have some time to work on the feedback. Otherwise, you might just burn yourself out.
Also when you are developing the backend admin system for an app or a site and need to create additional admin screens. A set of ready built components can reduce a lot of work and increase your speed of work. Predefined themes for dashboard and admin screens can serve as a useful starting point for your design and development.
4. Designing Assistance
If you have to both design a develop a website and you do not have the necessary qualifications or the budget to hire a designer, CSS Framework should be your choice.
5. Handling Browser Compatibility
CSS Framework is responsive while grids might make it difficult for you to decide breakpoints for web pages due to bugs or the lack of support for certain features you use.
Which one should you implement?
The answer lies in the nature of your project and you and your team will be the best decision makers. It might be useful that you not only consider your current requirements but also look into the terms of the initial prototype development and also the longevity of the website. Irrespective of your choice, it is important to keep your skills updated so that you are better prepared to take on the future and deliver the best of products and services in the coming phases of your career.
Cleonix Technologies is a web design company located in Kolkata, India. We take advantage of the latest trend and technologies to design, redesign and develop websites. This is our blog where we publish information for the general people and web developers for their knowledge enhancement.