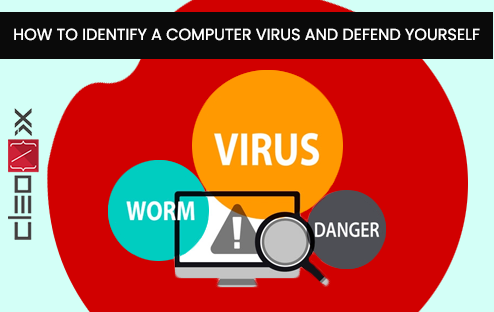 Has your computer become too slow and is acting a bit odd? Are you losing your sleep over fixing the issue but can't really figure out what's wrong? If this is your scenario then the computer might have got virus.
Once a computer detects virus, it starts showing signs like slow performance, frequent pop-ups, or even data lose. But how do you identify a computer virus and defend yourself? Well, that's what we'll discuss in this article.
What Is A Computer Virus?
A computer virus is a type of program that successfully modifies other applications with its code. If the execution process is done right, the modified areas of that application are known as infected areas. They often damage the software and steal your personal information stored in that software. Generally, more than thousands of computers get affected by viruses and malware every year.
How To Detect A Virus In Your Computer?
The following signs will help you identify a virus in your computer.
Performance Level Drops
As we mentioned earlier, a virus can easily hamper your computer's performance levels drastically. For instance, your machine can take 2 hours to copy a 50MB file.
Spams And Pop-Ups
Spams and pop-ups are some of the prominent red flags. Whenever you visit a dicey website, pop-ups can easily install harmful malware. Hackers use spam and pop-ups to hijack personal information like credit card details, passwords, and many more.
Unable To Gain Access To Some Files
In some cases, a virus can prevent you from accessing some files on your own computer. It can also stop you from performing certain actions like log off, power off, and more.
Security Software Failure
Often, when a computer gets affected by a virus, your security software or antivirus program stops running. It is a primary sign to confirm your computer has a virus or malware.
Changes In Your Homepage
Sometimes, a virus can easily change all the settings on your homepage. For example, your homepage browser is changed, shortcut files, browsing errors, and more.
How to Defend Your Computer From Virus Attacks?
The following points will help you defend your computer from virus attacks.
Perform Security And Virus Scans In Regular Interval
To prevent virus attacks, perform security and virus scans at regular intervals. This will routine clean all the malware and virus from your computer.
Changes Passwords 
Use strong passwords that meet requirements like symbols, alphabets, numbers, uppercase, and lowercase letters. Also, try changing them in regular intervals to prevent yourself from getting hacked.
Use Good Antivirus Software
Using antivirus software is probably one of the best ways you can prevent virus attacks. They always monitor your computer and will notify you instantly about any suspicious activity.
Download From Trusted Sites Only
Always download from reputable and trusted websites. Thus, the chances of getting a virus with your downloaded files gets thin.
Use Pop-Up Blocker Extension
A pop-up blocker is a great way to block unwanted ads. We recommend you to avoid clicking on pop-ups. So, the chances of malware and virus attacks also decrease.
Update Antivirus 
This is perhaps the most important part of keeping your antivirus relevant. If you don't update, the software won't handle all new viruses in the market.
Conclusion
Virus attacks are real, and they can easily damage files, hack your personal information, and crash your operating system. So, while preparing to save your computer from virus attacks, this article will surely help you out.