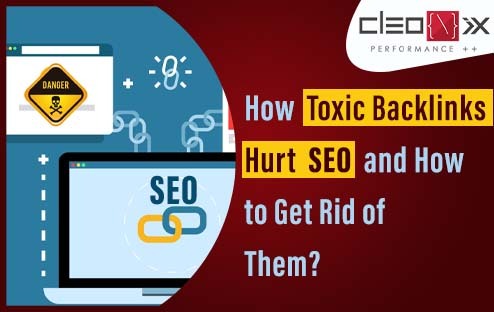 Backlinks, also referred as incoming links or inbound links, are one of the major factors of Google's search ranking and therefore, an integral part of SEO. When a different website links to your own site, a backlink is created and without proper backlinks, your website won't rank much in the Google search engine rankings. The more backlinks your website earns, the more it is likely that your website will rank highly for relevant keywords and search topics. However, not all backlinks are the same. As there are proper backlinks which helps to optimize your website's ranking, there are also bad or toxic backlinks which harms your website.
Toxic Backlinks
Toxic backlinks or unnatural links or bad links are those types of backlinks that can negatively affect the SERP of your website and hurt the SEO process. Too many toxic backlinks against your website can even compel Google to remove your website from the database. According to Google's link scheme guide :
"Any links intended to manipulate PageRank or a site's ranking in Google search results may be considered part of a link scheme and a violation of Google's Webmaster Guidelines. This includes any behaviour that manipulates links to your site or outgoing links from your site."
Identifying Toxic Backlinks
There several ways by which you can understand whether your website is being affected by toxic links or not. If your website's organic traffic suddenly decreases, chances are that Google has fined you for too many toxic backlinks.
Another sure shot way of knowing is that when Google Webmasters sends you a warning regarding the build up of toxic backlinks of the website. But how to identify which links are good and which are toxic? Generally toxic backlinks are created when :
Links come from a spam site or sites which are particularly set up for the purpose of link building.
Links come from sites and topics which are not relevant to your website.
Links come from sites which are not indexed by Google.
Links are forced into blog comments.
Links come from sites which contains virus and malware.
Impact of Toxic Backlinks on SEO
Toxic backlinks mainly hurts the SEO process of your website. It decreases the organic traffic of your site. If your website generates too many bad links, google will penalise you for it. Getting penalised decreases the chances of your content to be found on google and in worst case scenario, your website might get taken down. There are mainly two ways by which you might get penalised.
First, back in 2012, Google introduced the Penguin algorithm which targets low quality backlinks. If you get penalised by the Penguin filter, you won't be getting any warnings or notifications about the penalty. You can't even file a reconsideration request to alter the penalty.
Second, you receive a manual action. According to google :
"Google issues a manual action against a site when a human reviewer at Google has determined that pages on the site are not compliant with Google's webmaster quality guidelines. Most manual actions address attempts to manipulate our search index."
Manual actions can target either a section of your website or the whole website itself. They are mainly triggered when a competitor files a spam report against your website or the Penguin algorithm detects issues which triggers the manual action. To remove a manual action, you need to identify and remove all possible toxic links or disavow any which you can not before applying for a reconsideration request.
How to Get Rid of Toxic Backlinks
There are several ways through which you can remove toxic backlinks. But first you have to make a list of the toxic links. There are many software and tools available in the market today which can help you to analyse and determine the good and toxic links. Once you have the list of the toxic links, you can contact the administrator of those particular linking sites and apply for the removal of the links.
Another way of removing toxic links is disavowing. If your removal request was unsuccessful, then you need to disavow the links. A disavow file is basically a request to Google to overlook the links which you upload and not take them into consideration while analyzing your website's ranking. However, it is important to use Google's disavow tool carefully and correctly otherwise it can affect your website's performance.
Hopefully, now you can understand how toxic backlinks affect your website's SEO process and why it is absolutely necessary to get rid of them. Carefully building good quality backlinks and keeping in check with Google's rules & regulations is mandatory if you want your website to rank high in search results.
Read Also: What is Image SEO and How to Optimize Images for Search Engines?