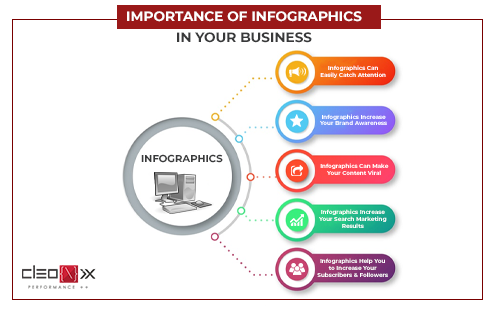 Infographics are gaining popularity and become widely used amongst businesses and organizations in both digital and print. Infographics are an influential tool which allows people to easily get information through the use of visual data, charts, and statistics. With the proper use of color, proportion, and negative space, information can be transformed into memorable, attention-grabbing and even persuasive graphics. Making good infographics you have to collect related data, write powerful text, and present them in an effective and visually pleasing way.
1) Infographics can easily catch attention:
If infographics are combined with well-written text & images then it became a very powerful tool to help your content cut through the information jungle and into your targeted audiences' brains. Generally, facts, figures, stats, and other graphical elements are more preferable and if compelling enough, the information in your Infographics can really capture customer's attention.
2) Infographics increase your brand awareness:
Infographics include the logo, website address, email or even contact information i.e. the relevant information about the creators. Thus it is truly a very effective way to increase your brand awareness.
3) Infographics can make your content viral:
The main feature of Infographics is potential visual content which is really appealing to many people so much, that most would want to share the same through their own networks and circles of influences. This made the content viral as more people like and likewise share the Infographic through their social media channels.
4) Infographics increase your search marketing results:
After the Infographics became viral, the highly beneficial effect such occurrences can bring to a particular business is better to search for marketing results. Infographics also generate important backlinks to you.
5) Infographics help you to increase your subscribers and followers:
The power of visual content can really be witnessed just by making a quick glance at your Facebook newsfeeds and walls. Exclusive infographics are always more eye-catchy & shareable than any ordinary text updates. This can be a very effective way of generating more subscribers and followers to your social media pages. This can open the doors to better interaction or engagement with your targeted audiences, which can make people more aware of your brand, products or services – and eventually convert them into paying customers.
So, from the above discussion, we know that infographics are one of the most important things in your business. You can create its own or can take help from professionals."Cleonix Technologies" is a Kolkata based Web development company specializing in Website Design, Graphic Design, Web Development, Digital Marketing, Search Engine Optimization. For creating exclusive infographics contact us.