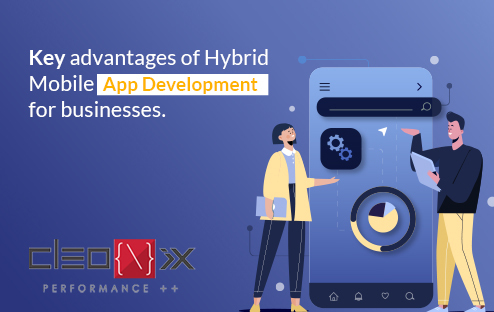 As we all know, mobile apps have practically taken over almost about everything. Anything you need, be it information, entertainment or a commodity, you can find it on an app for it. From your daily groceries to your flight tickets, connecting to your friends over social media or just pursuing a new recreational course, there are literally hundreds of apps for most of the things one needs. In this scenario, most businesses have been trying to keep up and get into the mobile apps segment for staying available, relevant and accessible to their potential and recurring customers. So much so that, mobile apps are now a critical and important platform contributing towards the growth of an organization's business revenues.
So, now that we understand why mobile apps are so important to any business, let's understand more about the Mobile app development. Mobile applications are majorly categorized into two types- Native App and Hybrid Mobile App. Now depending on the specific business goals and usage, the apps can be developed as a Native App or a Hybrid Mobile app. As businesses are always aiming to provide a better UI and UX than their competitors while having a seamless presence on all Operating Software types, hybrid Mobile app development happens to be the more beneficial one, because of its adaptability across all the platforms, be it iOS, Android or Windows.
Let's learn more about the benefits Hybrid Mobile app development, shall we? Why should businesses definitely invest in proper Hybrid Mobile App development?
• The economical choice:
The hybrid mobile app development is definitely the more low-cost option to go for, as here the developers are making a single version of the application to run across all platforms instead of making multiple applications to suit different OS's. It saves both time as well as money because the developers can utilize multiple frameworks and libraries to develop the mobile app development a lot easily and quickly.
• Say No to App-store limitations:
All major App stores like Apple and Google follow a bunch of heavy-duty "protocols" and any application submission and their subsequent update roll-outs take a lot of time to get validated and be made available to the customers. But with hybrid apps, the time taken to deploy them is cut-short as the native code isn't modified for the updates, hence no need for getting validated every time.
• Simple Back-end with a Native experience:
The back-end structure of the hybrid mobile app remains very simple to navigate and it helps to easily connect the user experience to functionalities that are specific to a certain mobile device. Even while updating or fixing any bugs or issues, the UX of the hybrid app stays undisturbed.
• High-speed performance on all devices:
Hybrid mobile apps have a consistent high-speed performance on all devices, irrespective of the network traffic, the amount of data or increase in the number of active users. Their speed and performance do not suffer. Yes, guessed it right! All major social media platforms like Facebook, Twitter, LinkedIn and even Netflix apps are Hybrid mobile applications.
• Enhanced and attractive UI/UX:
All Hybrid mobile apps have a consistent and attractive UI/UX to ensure the app environment is engaging enough for its users while holding the focus on to the right content. The UI of most Hybrid mobile apps look like an extension of the web app in terms of their layout and design aspect, which provides a better and familiar experience to the users.
• Offline support :
One of the most essential elements of Hybrid mobile app development is offline support as it ensures your customers can use your business's app even in with a limited internet connection or in-between interrupted service, by storing data locally using the device's API towards a better usability and accessibility of Hybrid mobile apps.
So, keeping all these factors in mind, we can say that Hybrid mobile app development for businesses, be it startups or major companies with massive user-base and contents, is always the better choice.
Read also:- Top 5 Key Benefits of iOS App Development for Your Enterprise