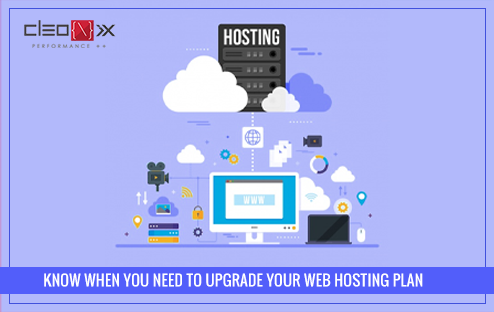 Web hosting service is nothing but a service that allows organizations and individuals to post a website or web page onto the Internet. A web hosting service provider is the business that provides the technologies and services needed for the website or webpage to be viewed on the Internet. Servers are nothing but special computers where websites are hosted, or stored. User will type your website address or domain into their browser when they want to view your website. After connecting the computer to your server the webpages will be delivered through the browser.
As a website grows older, more resources are added to it and so are functionalities. In order to keep the website secure and speedy, it is imperative to upgrade the website at the right time to ensure uninterrupted services. If you are also wondering whether you need to upgrade your web hosting plan or should continue with the same old one, here are some signs that'll tell you if it's time to get an upgrade.
You must know the following signs before upgrading your web hosting plan.
1. Site Becomes Slow:
Google uses site speed as part of its metric for determining visibility in search. Which means faster websites are given a higher priority. When your website is slow, you're essentially giving traffic directly to your competitors. For this, you must upgrade your hosting plan.
2. Your Website is Down Most of the Time:
The longer your website remains down, you will lose traffic and revenue. If the downtime becomes a common occurrence, it is time to talk to your hosting provider. However, if the problem persists, it is time to switch to a better performing host. A VPS or a dedicated hosting server is a good, albeit costly solution. If this is the case with your business, it is time to check out cloud hosting.
3. Inadequate Security:
The best web hosting providers will deliver as much security as possible. Part of delivering good security also includes easy methods to keep backups of your data.
4. You Need Bandwidth for Apps and Data:
The transfer of data from the server to a user will take up some of the allotted bandwidth. If you develop a popular app, that bandwidth will be quickly exhausted. So, depending on your site you must upgrade your web hosting plan.
5.Customer Support :
Websites and hosting are finicky and things could go wrong at any time. Since many website owners and managers are not technically proficient enough to solve the issues themselves, support is crucial for continuing business. If your hosting provider does not reply to your emails and/or calls, it is time to switch hosting solutions.
"Cleonix Technologies" is a Kolkata based Web development & hosting provider company specializing in Website Design, Graphic Design, Web Development, Digital Marketing, Search Engine Optimization. For upgrading your hosting plan contact us.