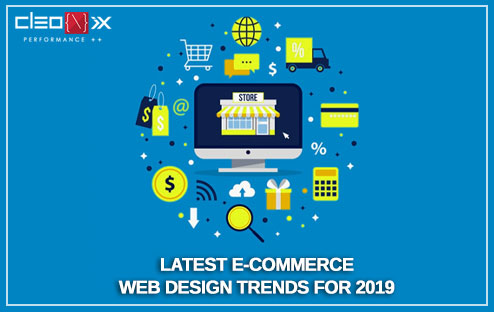 As we are in starting of 2019, we have to ask ourselves what the future for e-commerce will bring in this year. Well, we know one thing about it is that the improved user experience is always in demand.
When designing e-commerce websites for an online audience in 2019, developers should be aware that web features should be simple but attractive. Also, functionality should be preserved.
Let's look at some retail website design trends for 2019, and some of the best e-commerce web design inspirations for any business owner looking to capitalize this year:
1. Attention to a background
Your site must have the capacity to keep users interacting with it. Focusing on the background is one of the best ways to attract and make users stay on your site. Minimalism is a very important element of design. In 2019, the website design will cover the use of video or animated content in the context of the layout of the website. You can definitely expect a spike in traffic to your website, and consequently, the conversion rates will also increase.
2. Micro-interactions
Using micro-interaction technology in web design is a relatively new trend that will also make its way into 2019.This feature aids users in the following ways:
Provide important feedback to users or the consequences of an action they have taken on the website;
inform users when they have completed a task successfully;
help users stay engaged on the website;
prevent operational errors by showing users every step of the process.
3. Machine learning and chatbots
Many sites use bots more and more to improve communication between seller and buyer. Chatbots can also help your sales team find promising business opportunities more efficiently. Increased customer interaction with your site will create more opportunities for you to further develop your brand.
4. Different grid layouts
One of the most important trends in web design for 2019 involves thinking outside the box. Two distinct patterns will form the base for all grid designs on websites. These are the broken grid and the asymmetrical layout.
The above formats make it feasible for business owners to structure their sites. Contents such as images, videos or other types of content can be easily added to a broken grid.
5. Using different geometric figures and shapes
Designers have noticed that sites that use geometric figures and shapes receive friendly reactions from the visitors. Another key benefit of this trend is that it is very cheap to implement. If you don't want to add video or animated content to your website design, the next best thing is to use shapes or cinemagraphs.
6. Attention to a company
Before you start the design process, take the time to identify all the key features of your brand. In short, highlight the things that make it what your company is. Once you do this, the next step is to figure out how to make it a reality and present it to the rest of the world. The aim is to be as authentic as possible, so you should create all your content unique.
7. Material design
Material design provides the tools that you can use to complement your user interface to make the most of it. The material design works based on various design features such as grids, colors, space of a webpage, the typography used, and the images. All of the above design features are taken into account to create a website that serves your company well.
8. Minimalism
The minimalist approach to web design is another trend in this list that isn't new. Users are more likely to remain on a website designed to be simpler. This is because complex website designs are embarrassed and users find it uncomfortable to explore. One of the most important reasons for the minimalist approach is that the site acts as a guide to the user. You will not have problems browsing your website, searching for products and finding the information you are looking for. Remember, less is more, and that also applies to web design in e-commerce.
9. Hamburger Menu
The Hamburg menus are three parallel lines of icons. They are normally placed on the top left or right side of a web page. Once a user clicks on the icon, they have a different menu to navigate the website. Website designers have chosen different names, such as the option button, the side menu, the hotdog, the sandwich, etc. Just look at the Gizmo homepage, apart from other impressive design features, you'll see a hamburger menu at the top right of the page.
If you have your own website you should definitely follow the trends of web design. Discover the tendencies, techniques, and tools of web design that will take a leading position in 2019. It's up to you whether or not to follow these trends, but every industry professional should be aware of them. Pay attention to every detail and make sure you design carefully. It is time to make your move and prepare yourself for the future of e-commerce.