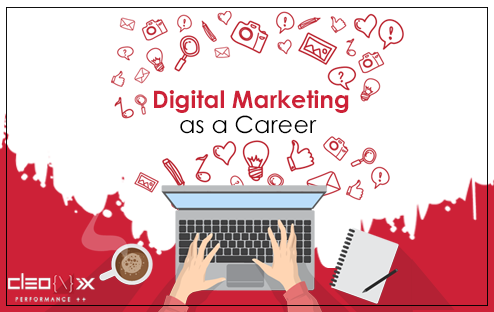 Digital Marketing has turned into the next big thing with almost every product/service taking the digital route to promote their product. With this industry reaching new statures every day, there is a requirement for limitless intelligence and creative minds. Digital marketing comprises, even more, roles and skills than traditional marketing ever before, and it's this flexible, versatile nature of the business that makes it so fascinating.
So, here are five reasons why you need to shift your career in Digital Marketing.

1.Fuels your Creativity:
If writing lines and lines of a programme is your worst nightmare and if you cannot imagine doing something mundane and meticulous, Digital Marketing is your savior. With the surfeit of content and creative material posted online every day, digital marketing agencies are in hunger of individuals who can think out of the box and whip out innovative material in just a moment. My job is too boring and robotic, no digital marketer ever said.

2. Flexibility:
As all of know digital marketing revolves around the internet it could provide you with a flexible work environment. From where you work is not an important major requirement is a good internet connection. Companies additionally provide a bunch of flexible choices depending on the necessity of the work like work from home or as per you chose working hours.

3. Always progressive and moving with time:
The digital marketing industry is very new compared to other still it keeps adopting new technology and experiments new thing to provide a better result. This shows how dynamic this career option if you are always updated or ahead of the market trend.

4. Earnings:
When a job is in demand, that means there's a greater chance to negotiate compensation whether you are working in any company or as a freelancer. In so far as you "show" your work through the job search process, you'll have the capacity to offer higher and higher the more experience you get. According to the Creative Group, content writers early in their career can probably start at a pay of a minimum of $45, 000 and a new SEO pro will probably be earning about $50,000 to start.

5. No particular background needed:
You don't need a particular set of educational qualifications to be an expert in the digital marketing field. Your passion, not qualification, matter. The best part is you don't need to start your career from scratch if you want to make it big in the business. All you require is your enthusiasm.

Digital Marketing is a broad field with endless opportunities and unnumerable advantages! The great thing about this line of profession is that you needn't bother with a degree or prerequisite knowledge to make a profession out of it. All you need is a hint of ambition, a good amount of creativity and the ability to learn and think in an unexpected way! If you'll be able to relate to the above-said points, you know what you are going to do in your future life!