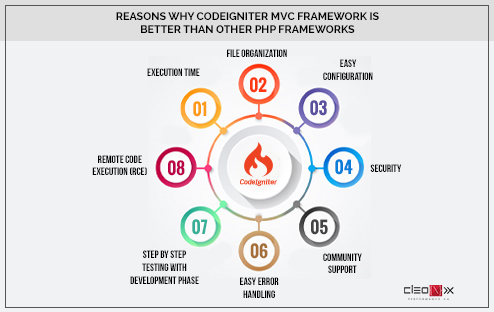 CodeIgniter is an open-source PHP MVC framework for developing applications quickly. Learn why CodeIgniter is better than other PHP Frameworks:
1. Execution Time:
The first and the most essential point which draws the attention of every developer towards the PHP is its execution time. Its response is very fast. In this world, no technology can give the execution so fast.
2. File Organization:
At the time of first installing the CodeIgniter framework, it contains the many files application which contains the sub-folders as controller, config, model, view, etc.
3. Easy Configuration:
Codeigniter MVC Framework has very easy configuration, you just need to install the frame first as per your system configuration, then open the library's config. PHP load, database, array everything in it and save that's it.
4. Security:
In PHP you will find many inbuilt functions to use in our project for the input and output filtering. Many Function available for the encryption and decryption which helps the developer to send any data in the secret installation.
5. Community Support:
As we all know that PHP is the world's largest using language so everyone come with their problems and solutions so in those problems and solutions you get your problem solved quickly and with full support and all.
6. Easy Error Handling:
Error handling was not so easy but in CodeIgniter, you have to only write one line code to enable all the errors in front of you so that you can get what is the problem in the development code.
7. Step by Step Testing With Development Phase:
We can test the performance and the functionality of the project during the starting phase of the project through that you can see each and every phase of the project and you can test it.
8. Remote code execution (RCE):
In every CI Framework file have PHP script: if ( ! defined('BASEPATH')) exit('No direct script access allowed'); on top of the header. This code ensures that the PHP file is not accessible directly by manipulating or running a script.
So, from these, you can understand the Codeigniter framework is a very important framework ."Cleonix Technologies" is a Kolkata based Web development company specializing in Website Design, Graphic Design, Web Development, Digital Marketing, Search Engine Optimization. For developing exclusive website contact us.