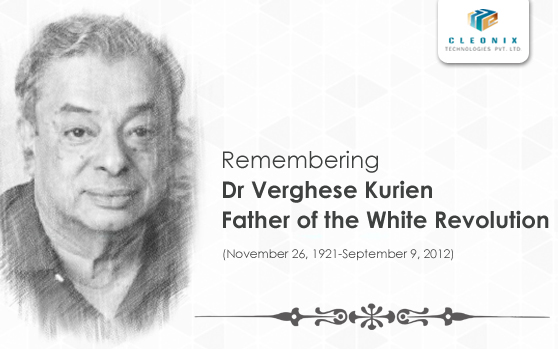 Verghese Kurien was an Indian social entrepreneur who is known as the Father of White Revolution in India.He was the architect of Operation Flood – the largest dairy development program in the world.For this he was renowned as Father of White Revolution.A Padma Vibhushan awardee, Verghese Kurien was the master brain behind making India the largest milk producer in the world. He was also the recipient of the World Food Prize and the Magsaysay Award.
He was born in Calicut, Kerala on 26 November 1921. He graduated from Loyola college of Madras and did his BE from university of Madras. Then he went to US on a government scholarship to earn his Masters of Science in Mechanical Engineering from Michigan university.Verghese Kurien died on 9 September 2012 after a brief spell of illness in Nadiad, near Anand at the age of 90.
He founded major institutes such as Anand Milk Federation Union Limited, National Dairy Development Board and Institute of Rural Management Anand.He helped modernise the Anand model of cooperative dairy development. He is regarded as one of the greatest proponents of the cooperative movement in the world.His work having lifted millions out of poverty in India and outside.