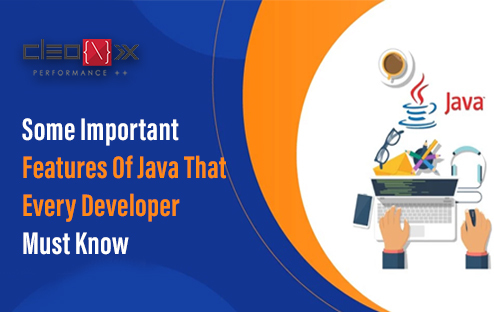 Java, since it rolled out in the year 1995, has slowly become the center of
programming languages. It is a general purpose, high level coding language designed
by James Gosling and developed by Sun Microsystems. In today's technology
market, most android/IOS based applications are developed with the help of Java.
Many cloud based services and other internet applications and technologies also use
it, but what makes this particular language so popular ? Well, right from the
beginning, Java has been packed with important features (also know as Java
Buzzwords) designed to help developers achieve their desired outcome easily. Let us
look at some of this features :
Easy To Use
Java is easy to learn and use. It eliminates many complex features which others
language have like 'Storage classes', 'Multiple inheritance', 'Operator overloading',
'Explicit pointers', 'Goto statements', making it easier for the developers. We also do
not have to worry about unreferenced objects since there is a Automatic Garbage
Collection feature.
Object Oriented
Java is a object–oriented programming language. Its support features like
Encapsulation, Abstraction, Inheritance, Polymorphism. Object oriented means that
Java is a type of software which is a combination of different objects which includes
both data and behavior.
Platform Independent
This is a feature which really makes Java stand out from the rest. Unlike C, C++, etc,
which are compiled in specific platforms, programs written in Java can run from any
machine without any changes. This is because Java does not convert the source code
into machine code. Its converts the source code into an intermediate code called Byte
Code which can be executed on any platform or OS through the Java Virtual Machine.
Because of this Java is also known as WORA (Write Once, Run Anywhere).
Security
Security in programming languages in an important feature as there is fear of virus
attacks and malicious activities. Java features access modifiers which helps to check
memory access and also protects from virus entries. It also has a byte code verifier
which helps to check illegal codes that can violate the access rights to objects.
Another important feature of Java is that it runs program in a virtual machine
sandbox which does not affect the underlying system in anyway.
Multi-Thread
A thread can be explained as an independent program running simultaneously. Being
multi-threaded means Java can run multiple tasks or execute different sections of the
same program at the same time in parallel.
Dynamic
Java is highly dynamic as it can adapt accordingly to the programming environment.
It gives us the facility to link new class libraries, methods and objects. It can also
support functions written in other languages as C and C++.
Summary
The main purpose of creating Java was to make a simple and secure programming
language. By discussing some of these features, we can now understand why and how
Java became so popular among the developers and why even major corporations are
using it.