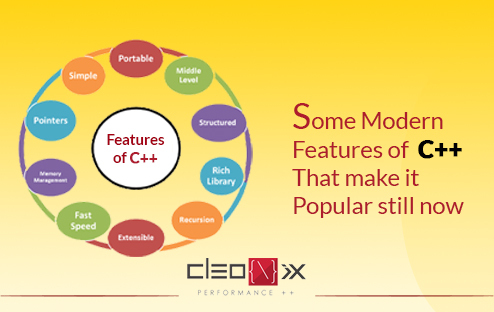 C++ is a computer language which has managed to stay in use in present times, since more than 40 years of being developed as an improvement over C language. Often heralded as one of the hardest programming languages, it has somehow evolved a lot in all these years of being used and is much more dynamic now. The purpose of the C++ language is pretty general where it can be used to design and build applications. Certain improvements that were brought to the table by C++ over the original C language can be noted as object-orientation, namespace features, handling of error and expectation, overloading of the operator, etc.
So, despite so many new languages having been developed over the years for different functionalities and features, what helps make the C++ popular even now? Let's understand them:-
Rich library support: C++ offers convenient code writing as it has a rich library support (Standard Template Library). This STL has a lot of available functions. This is kind of library that is evolving continuously, with efforts being made into keeping it an ever-evolving set.
Better speed: One might argue that C++ codes require compiling into low-level codes and then are executed. But The compilation and execution of C++ is still much faster when it comes to programming languages. Hence, C++ is definitely preferred when the speed is a crucial perimeter.
No dependency on the platform and machine: C++ is definitely very convenient as it is a machine-independent language where same piece of code can work in different environments. Hence, no matter if you need to switch the systems and transfer the code to another machine to work, C++ will not throw a fit.
Object Orientation: C++ is an object-oriented language, where the focus is on the object and all manipulation and working is done around the object. The real-time queries are easily executed, which are based on methods like data abstraction, inheritance , etc.
Code-reusability: Due to its object-orientation, C++ utilizes its inheritance feature to facilitate re-using of the code and saves from having to re-write original code. This overall helps to save a lot of time, energy and efforts.
Code-flexibility: Due to the special flexibility that C++ provides to its codes using the polymorphism feature of object-oriented programming, the programmer doesn't need to writing separate functions for each object and rather use the same function to work with many objects.
Easy-to-modify: C++ is such an easily modifiable language where the code can be modulated easily to fix any bugs or add any new features- as per the needs. Such a code is hence much clear and easier to understand as well.
Data-privacy: C++ offers a feature to hide the data that might require more privacy or safety from getting out to unwanted access. The programmer can opt and decide for which portions of the data they would need to hide and which ones, not, so that essential information can be presented with clarity and secret information can be kept safe.
Overall, C++ enjoys a huge user-base, with so many developers working as a support system to fellow C++ coders. And with its ever-evolving nature, and new features being added this language isn't losing its popularity with developers and coders and soon.