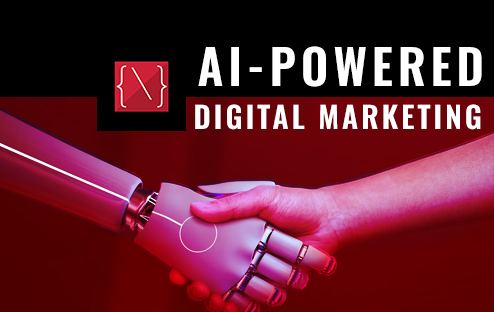 In the ever-evolving landscape of digital marketing, staying ahead of the curve is not just an option; it's a necessity. As businesses strive to connect with their audiences in a rapidly changing digital world, one technology is emerging as a game-changer: Artificial Intelligence (AI). AI-powered digital marketing is revolutionizing the way businesses reach, engage, and convert customers. In this blog post, we'll delve deep into the world of AI in digital marketing, exploring its transformative potential, its impact on various aspects of advertising, and why it's the future of marketing.
The Digital Marketing Landscape
Before we delve into the role of AI, let's set the stage by understanding the modern digital marketing landscape. In today's digital age, businesses are vying for consumers' attention in a crowded online marketplace. Traditional marketing tactics are no longer sufficient to cut through the noise and drive meaningful results. Digital marketing, which encompasses a wide range of online channels such as social media, email, search engines, and websites, has become the go-to strategy for businesses seeking to expand their reach and boost their bottom line.
The Rise of Artificial Intelligence
Enter Artificial Intelligence. AI, the simulation of human intelligence by machines, is fundamentally changing how businesses approach digital marketing. It enables companies to leverage data-driven insights and automation to create more personalized and effective marketing campaigns. AI algorithms analyze massive amounts of data faster and more accurately than any human could, making it an invaluable tool in today's data-driven marketing landscape.
AI-Powered Personalization
One of the most significant advantages of AI in digital marketing is its ability to deliver personalized content and experiences to users. Traditional marketing campaigns often relied on a one-size-fits-all approach, which, more often than not, led to missed opportunities and wasted resources. AI, on the other hand, enables marketers to tailor their messages, products, and services to the individual preferences and behaviors of each customer.
For instance, AI can analyze a user's browsing history, purchase history, and interactions with a website to recommend products or content that are highly relevant to them. This level of personalization not only enhances the user experience but also increases the likelihood of conversions and customer loyalty.
ALSO READ: Ultimate Yoast SEO Tutorial: From Beginner to Pro in Just 7 Steps
Enhanced Customer Engagement
Engaging customers in a meaningful way is a core goal of digital marketing, and AI is proving to be a powerful ally in achieving this objective. AI chatbots, for example, are becoming increasingly common on websites and social media platforms. These chatbots can provide instant responses to customer inquiries, offer product recommendations, and even assist with the purchasing process. By offering quick and relevant assistance, AI-powered chatbots enhance customer engagement and satisfaction.
Moreover, AI can analyze user behavior and preferences to determine the best times to send emails, post on social media, or run advertising campaigns. This data-driven approach ensures that marketing efforts are well-timed and have a higher chance of resonating with the target audience.
Predictive Analytics
Predictive analytics is another area where AI shines in digital marketing. By analyzing historical data and identifying patterns, AI can make accurate predictions about future trends, customer behavior, and market shifts. This allows businesses to stay ahead of the competition by making informed decisions and adjusting their marketing strategies accordingly.
For instance, AI can predict which products are likely to be popular in the upcoming holiday season, enabling retailers to stock inventory accordingly and plan targeted marketing campaigns.
Cost Efficiency and ROI
AI-powered digital marketing isn't just about delivering better results; it's also about doing so more efficiently. AI can automate repetitive tasks such as data analysis, content curation, and ad optimization. This automation not only saves time but also reduces the risk of human error.
Furthermore, AI algorithms can continuously monitor and adjust advertising campaigns in real-time to maximize return on investment (ROI). If a particular ad isn't performing well, AI can quickly identify the issue and make necessary adjustments to improve its effectiveness. This level of optimization is nearly impossible to achieve through manual methods alone.
Challenges and Ethical Considerations
While AI offers tremendous benefits to digital marketing, it also presents challenges and ethical considerations. Privacy concerns, data security, and the potential for bias in AI algorithms are all important issues that marketers must navigate responsibly. It's essential to strike a balance between harnessing the power of AI and respecting user privacy and data protection regulations.
ALSO READ: Necessary Points to Remember For Email Marketing – Tips, Tricks & Ideas
The Future of Advertising
In conclusion, AI-powered digital marketing is reshaping the advertising landscape. Its ability to deliver personalized content, enhance customer engagement, leverage predictive analytics, and optimize campaigns for cost efficiency is propelling businesses toward greater success in the digital age. As AI continues to advance and become more accessible, it will undoubtedly play an even more significant role in the future of advertising.
Businesses that embrace AI in their digital marketing strategies will have a competitive edge, reaching and connecting with their target audience in ways that were previously unimaginable. The future of advertising is here, and it's AI-powered. Are you ready to harness its transformative potential?
Stay tuned as we explore more AI-driven innovations in the dynamic world of digital marketing, where the only constant is change. The future is now, and it's powered by Artificial Intelligence.
Remember, the key to success is not just embracing technology but also using it ethically and responsibly to create meaningful and engaging experiences for your customers in the digital realm.