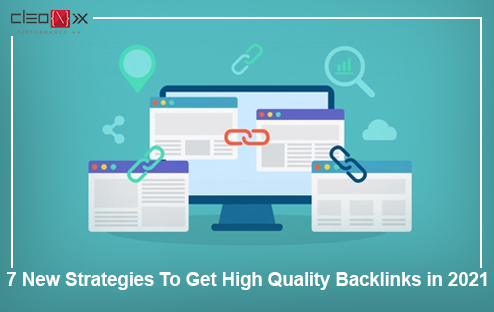 In today's digital world, getting a good rank in search results is a dream for many organizations. To achieve that, companies spend a substantial amount of money. But only spending money on advertisements won't help you strike the right chord. You have to generate a good amount of high-quality backlinks. They can help you establish a reputation for your website. Therefore, in this blog, let us learn about backlinks and discuss 7 new strategies to get high-quality backlinks in 2021.
What are Backlinks?
When a webpage contains a link from another website, it is known as a backlink. For example, if your website writes about backlinks and provides the link to this particular article, then it becomes a backlink for this website.
Having a significant amount of backlinks helps your website to build trust signals for various search engines. Basically, when your website will get backlinks, the search engine will know that your website is a valuable source of information.
The following points contain 7 new strategies that you can use this year to get high-quality backlinks.
Use Broken Links To Build Your Backlinks:-
Once you locate a broken link, contact the website owner and report it. While reporting, you can also recommend some links along with yours. The site owner might return you the favor and replace the broken link with your website's link.
Create Attractive Infographics:-
Infographics help you to portray the information in a visual representation. It helps to attract huge traffic as they are easy to understand. So, you can use infographics to create reputable backlinks.
Reach Out To Social Media Influencers and Journalists:-
For your website's promotion, you can reach out to social media influencers and journalists. These people can use your information for their content. Hence, you can achieve some backlinks from such promotions.
Look For People Who Can Interview You:-
Don't worry; we are not talking about television or radio interviews. Here, we are talking about online interviews. They are fun, entertaining, and can garner a lot of audiences. So, getting featured in some interviews might increase the chance of getting more backlinks.
Study And Understand Your Competitors:-
Analyzing your competitor's market is one of the best ways to understand how to generate more backlinks. So, study their traffic generating techniques and use them for your website's benefit.
Utilize The Skyscraper Technique:-
Here, you have to find a website in your niche with numerous backlinks. Study them and create content that is superior when compared. Then, get in touch with that website's owner and ask to link your content as they are more superior.
Use Testimonials:-
A good testimonial can attract a lot of potential customers. So, if you manage an attractive testimonial, you can easily earn a lot of customers. It will also help you to generate reputable backlinks for your website.
Conclusion
Getting a good amount of reputable backlinks requires creating a perfect strategy, so that you can guide your website to achieve the desired result. However, while working on obtaining backlinks, this blog content will surely guide you around.