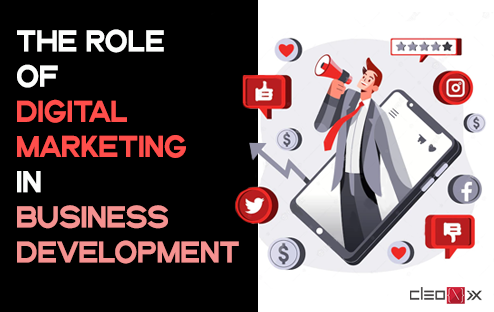 Nowadays, we are all familiar with the term Digital Marketing. It uses digital platforms such as mobiles, pop-up ads, and many more to market products and services. With affordable internet plans and devices, digital platforms are becoming one of the effective ways to promote products for companies.
In fact, many experts suggest that digital marketing is more effective than traditional marketing methods. Some of the most common methods of digital marketing are email marketing, SEO, influencer marketing, social media, content marketing, and many more. So, in this blog, let us discuss the role of digital marketing in business development.
Return on Investment
The return on investment from traditional methods of advertising such as billboards, TV ads, and newsletters is a bit ambiguous. Fetching accurate data is one of the biggest problems with traditional methods of advertising. But with digital marketing, you will have various tools to measure the progress of your advertisement campaigns. For example, tools like Google analytics can give the data to measure your expenditures and the total revenue collected. So, it helps you to structure the ad campaigns to increase the return on investment.
Gives Your Audience a Benefit
Nowadays, if you want your company to flourish, you need to build an online brand. Several studies show that most customers go through in-depth research before they any products or services. Therefore, with digital marketing, you can reach your target audience and create a personalized connection with them. For example, social media platforms such as Twitter and Facebook can help you build your online brand and increase the sales figure.
Conversion Rates
With any form of marketing, the success story lies in its conversion rates. Since you are spending an amount of money, you want to boost your sales figure through the leads. As we all know, digital marketing strategy is all about analyzing your target audience and structuring the ad campaigns around it. So, when your campaigns are directed towards your target audience only, the possibility of boosting the sales figure also increases. In fact, through digital marketing, you can create a loyal audience base for your products and services.
Budget-Friendly
One of the main advantages of using digital marketing is that you can customize it according to your budget. For example, if a small business decides to spend money on online ads, it has to be structured in a cost-effective way. But don't worry; it can still produce good results and boost the sales figure. However, with traditional marketing methods, they can be quite expensive for a startup. The digital space gives the companies full freedom to customize and structure their marketing strategies according to their budget.
Market Presence
The whole concept of marketing is to expand your audience base and increase your market presence. Basically, the equation is simple the more market presence you have, the chances of conversion through promotion become higher. Right now, when it comes to creating market presence, digital marketing is best the option to do that. Digital marketing is much more customizable, so companies can use it according to their plan. In addition, you need to work on your online brand in order to create a market presence in today's market.
Conclusion
Since we are wrapping off, we would like to say that digital marketing is the future of marketing. Therefore, businesses need to acknowledge its power and use it to expand their horizon. So, while you are on it, this article will surely guide you around.
ALSO READ:- Different Types of Digital Marketing Techniques and Their Uses