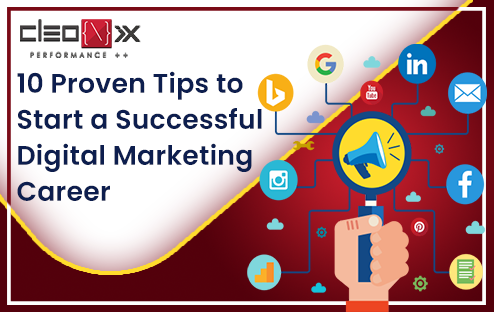 Digital marketing is an exciting and constantly evolving field that offers a wide range of career opportunities. Whether you're just starting out or looking to advance your career, there are many strategies you can employ to set yourself up for success in this industry. In this blog post, we'll share 10 proven tips to help you start a successful digital marketing career.
Develop a Strong Foundation in Marketing Principles
Before you dive into digital marketing, it's important to have a solid understanding of marketing principles. This includes understanding consumer behavior, market research, branding, and positioning. Without this foundation, it can be difficult to effectively execute digital marketing strategies.
Stay Up-to-Date with Industry Trends and Best Practices
Digital marketing is constantly evolving, and it's important to stay up-to-date with the latest industry trends and best practices. This includes keeping up with changes in social media algorithms, emerging technologies, and new advertising platforms.
Build a Strong Personal Brand
In the digital marketing industry, your personal brand is everything. This includes your online presence, your reputation, and your professional network. Building a strong personal brand can help you stand out from the competition and attract new career opportunities.
Gain Hands-On Experience with Different Digital Marketing Tools and Platforms
To be successful in digital marketing, it's important to have hands-on experience with a variety of different tools and platforms. This includes social media advertising platforms, email marketing software, website analytics tools, and more.
Develop Strong Communication and Collaboration Skills
Digital marketing is a collaborative field that requires strong communication and collaboration skills. Whether you're working on a team or communicating with clients, it's important to be able to effectively communicate your ideas and work together to achieve your goals.
Network with Other Digital Marketing Professionals
Networking is a key component of any successful career, and digital marketing is no exception. Attending industry events, joining online communities, and connecting with other professionals on social media can help you build relationships and learn from others in the field.
Stay Flexible and Adaptable
In digital marketing, things can change quickly. It's important to stay flexible and adaptable, and be willing to pivot your strategy as needed. This requires a willingness to learn and a willingness to take risks.
Be Results-Oriented
At the end of the day, digital marketing is all about results. Whether you're trying to increase website traffic, generate leads, or boost sales, it's important to be results-oriented and focused on achieving your goals.
Continuously Learn and Improve Your Skills
Digital marketing is a field that requires continuous learning and skill development. Whether you're taking online courses, attending workshops, or reading industry blogs, it's important to always be learning and improving your skills.
Be Passionate and Creative
Finally, to be successful in digital marketing, it's important to be passionate and creative. This is a field that rewards innovation and creativity, and it's important to bring a fresh perspective and new ideas to the table.
In conclusion, digital marketing is a dynamic and rewarding field with many opportunities for career growth and success. By following these 10 proven tips, you can set yourself up for a successful digital marketing career.
READ ALSO: Top 11 Game-Changing SEO Trends That Will Dominate in 2023