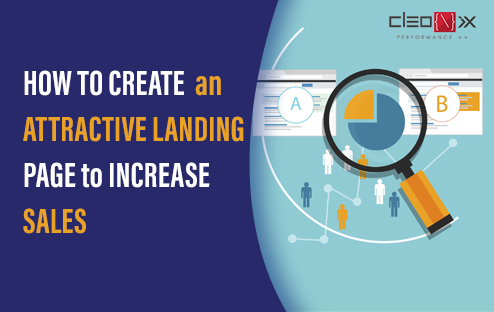 Landing page, perhaps, is the most crucial element of a business website. A landing page layout can simply determine how well the business will thrive in the online space. if you own a business company and have your brand available on the digital sphere, then you must be able to create an attractive landing page to increase customers and sales numbers. Therefore, in this blog, we'll explore the different ways you can create an attractive landing page for your business to increase traffic to your website. Watch out.
Landing Page – What It Does
Before getting into the specific details, let's understand, in brief, what a landing page is about. It is that page of a particular website that you land on whenever you click an ad on search engines or social media sites. For example, if you own an online e-commerce store, then the landing page of your e-commerce website should have all the information about your website, its' products, how to purchase them, the feedbacks, specific offers, and many more. Thus, a landing page has pretty much all the necessary details about that particular website.
Create Attractive Landing Page to Increase Sales
To increase the conversion rate of a business, it is necessary to understand the nuances of an attractive landing page and how to create one. Here are some ways you can create an effective landing page.
Keep the Page Clean
Nothing can be more attractive than a clean and fast-loading landing page. No matter how interesting your website content and offers are, if it takes longer to arrive on the landing page, then it's a waste already. To ensure seamless landing, you must keep the page uncluttered and organized. A clumsier landing page turns down the viewers as they fail to find what they want, easily. Keep it simple with relevant images and color tones.
Focus on the Content
Be precise with the content of your landing page. Try to avoid flowery and exaggerated statements that might not match with your products, services, or the brand. Keep the language as simple as possible so that viewers of all strata can understand and relate. Define your business goal with less words and try catchy one-liners to attract the eyes of the customers.
Gain Customer Trust
Customer trust is the ultimate factor that can decide how well would your business survive. Even if they click the ad and arrive on the landing page, if you cannot build their trust at the first glance, then that click will never convert into a purchase. The best way to gain the trust of the customer is to add real-time buyer reviews, testimonials, and appreciation posts from other brands. You can also add other brands' logos with whom you have collaborated, on your landing page.
Add Attractive Offers
What interesting elements are you offering your customers when they come to the landing page of your website? Ask yourself this question before designing the page. When a viewer visits your website, he/she might have expected some interesting offers that other similar stores are probably not providing. Therefore, grab your customers' attention by adding attractive offers. If they find your offer alluring, then your conversion rate will increase automatically.
The Bottom Line
Creating an attractive landing page is quite an easy job if you know what to keep and what not to. It is an amazing marketing method that can increase the conversion rate of your online business and help building your brand image while increasing the sales figure.
Read Also: How Web Design and Development Can Amplify Your Business?