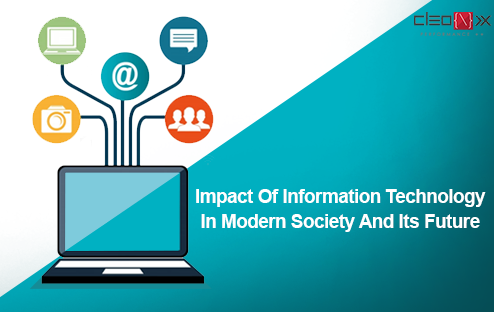 In the past few decades, information technology has become an integral part of our daily lifestyle. In fact, many people will say that it has taken over people's lives. Just take a moment and look around you. You will see a world filled with gadgets, computers, and other tech stuff. Smartphones are perhaps the most important belonging for most people nowadays.
However, with all these dependencies, information technology has its own set of pros and cons when it comes to its impact on modern society. In this article, let us discuss the impact of information technology on modern society and its future.
The Impact Of Information Technology On Modern Society:-
The following points will showcase some of the positive and negative impacts information technology has on today's society.
Positive Impact of Information Technology
Effective Communication
With the rise of Information technology, communication has become more simple and effective. For example, you can effectively communicate with anyone through emails, social networks, video calls, and more. From business deals to live interactions, technology has made it all easy.
Fast And Interactive Learning
Technological advancement also helps us to practice interactive and fast learning. It gives us access to all the available resources in the digital world, and that too 24*7. For example, students can easily prepare themselves for exams, sitting in their bedrooms. Moreover, teachers can also help them through online classes and video calls.
Easy Availability
One of the best things about technological advancements is that almost everything is easily available. Of course, this has its own drawbacks. But the truth is that you can get anything you want from the internet, for example, groceries, electronics, information, books, and more.
Negative Impact of Information Technology
Reduced Physical Activity
With all these technological advancements, you can easily expect some downsides. For example, the rise of technology is making people lazier than ever. Nowadays, kids prefer mobile games and play stations over playing outside on an open field.
Data and Privacy Protection
Perhaps the biggest concern of technological advancement is the lack of data and privacy protection. Advanced machine learning has given birth to sophisticated drones and robots. They can easily monitor our daily activities. Moreover, your data on your smartphone is not entirely secured.
The Future Of Information Technology
However, with all these good and bad sides, information technology has a foreseeable future. The following points will shed a light on the possible future of information technology.
Energy-Efficient Vehicles
The concept of electric cars is very much a reality. But in upcoming years, we will possibly witness a world where all vehicles will be eco-friendly to reduce carbon footprints.
Virtual Reality
The game called Pokémon Go has given this world a sneak-peek into virtual reality. But with Facebook announcing the Meta Verse, virtual reality definitely has a bright future.
Education For All
The number of people who cannot afford education around the world is staggering. But with internet access, we will possibly witness a world where the literacy rate will reach its peak.
Conclusion:-
Information technology has definitely cast a strong impact on modern society. And this impact will increase in the foreseeable future. However, it all depends on us and how we use it to make this world a better place.
Also Read:- Impact of mobile apps in our future life