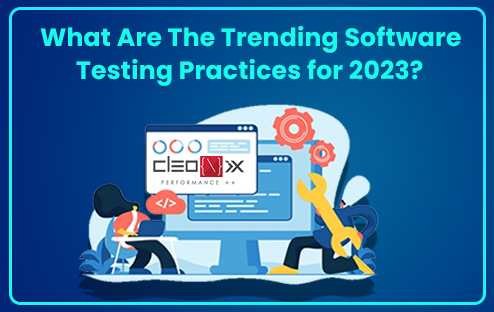 In the ever-evolving world of software development, staying up to date with the latest testing practices is crucial for ensuring the delivery of high-quality software products. As we delve into 2023, several emerging trends have caught the attention of software testers and quality assurance professionals. This blog post explores the cutting-edge software testing practices that are trending this year, offering insights into how they are reshaping the landscape of software testing and positively impacting the software development process.
Test Automation with Artificial Intelligence: Artificial Intelligence (AI) and machine learning (ML) have gained significant traction in recent years, and their integration into software testing is becoming more prevalent in 2023. Test automation tools powered by AI and ML can analyze vast amounts of test data, identify patterns, and generate intelligent suggestions for improving test coverage and efficiency. These advanced technologies enable the creation of robust test suites, accelerating the testing process and enhancing the overall quality of software products.
Shift-Left and Shift-Right Testing: The concepts of shift-left and shift-right testing have gained prominence as organizations strive to adopt agile and DevOps methodologies. Shift-left testing involves early involvement of testers in the software development lifecycle, allowing for the identification and resolution of defects at an earlier stage. Conversely, shift-right testing focuses on monitoring and testing in production environments to capture real-time user feedback and improve the product continuously. The combination of both approaches ensures better collaboration between development and testing teams and promotes a culture of continuous improvement.
Performance Engineering and Testing: With the increasing complexity of software systems and the demand for optimal performance, performance engineering and testing have become crucial in 2023. Performance engineers collaborate closely with development and testing teams to identify potential bottlenecks, conduct load testing, and optimize system performance. Leveraging advanced tools and techniques, performance testing helps organizations assess their software's scalability, responsiveness, and stability under various conditions, ensuring a seamless user experience.
Shift towards Cloud-Based Testing: The widespread adoption of cloud technologies has transformed software testing practices. In 2023, there is a significant shift towards cloud-based testing solutions that offer scalability, flexibility, and cost-effectiveness. Cloud-based testing environments provide on-demand access to a wide range of devices, platforms, and configurations, allowing testers to validate software compatibility across diverse environments. Additionally, the cloud facilitates collaborative testing efforts, enabling distributed teams to work seamlessly and share resources.
Security Testing for Enhanced Protection: As the number of cyber threats continues to rise, security testing has gained paramount importance in 2023. Organizations are increasingly focusing on identifying vulnerabilities, assessing risks, and conducting penetration testing to ensure robust security measures in their software applications. Advanced security testing tools and methodologies are employed to uncover potential security flaws, including injection attacks, cross-site scripting (XSS), and insecure authentication. Prioritizing security testing helps organizations build trustworthy and resilient software products.
Test Data Management and Privacy: In an era where data privacy is of utmost concern, test data management has emerged as a significant practice in 2023. Testers are now tasked with ensuring the ethical use of data and complying with privacy regulations such as the General Data Protection Regulation (GDPR) and the California Consumer Privacy Act (CCPA). Robust data masking techniques, anonymization, and synthetic data generation methods are employed to protect sensitive customer information during testing while maintaining data integrity.
Continuous Integration and Continuous Testing: Continuous integration (CI) and continuous testing (CT) have become integral parts of the software development process. In 2023, organizations strive to achieve faster release cycles without compromising quality. CI involves frequent code integration and automated build verification, ensuring that the software remains stable throughout the development lifecycle. Continuous testing complements CI by automating the execution of tests and providing real-time feedback on the quality of the software. This seamless integration of CI and CT allows for early bug detection, faster bug fixing, and overall improved software quality.
Conclusion:
In 2023, the field of software testing is witnessing exciting trends that are shaping the way organizations approach quality assurance. From AI-powered automation and shift-left testing to cloud-based testing and security measures, these practices are revolutionizing the software development process. With a focus on continuous integration and continuous testing, organizations can achieve faster release cycles without compromising on quality. By staying abreast of these trending practices, software testers and quality assurance professionals can contribute to delivering high-quality software products that meet the ever-growing demands of users and maintain a competitive edge in the market.
ALSO READ: AngularJS or ReactJS -Which One is Best for 2023?