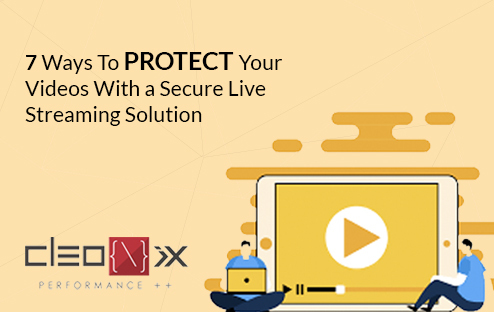 Over the years, security concerns have gone up regarding any data and digital attacks have rather become commonplace. Hackers and piracy are everywhere targeting valuable information, posing a serious threat to the businesses. Now, we have seen that in recent times, videos and live video-streaming have seen such a boom that every modern business uses this digital tool for connecting to their consumers. There are several varieties of live-streaming that act as a great opportunity and marketing tool to reach a large audience base. So how can this process be made secure and safe from unwarranted attacks!! Although there are actually several protocols and methods developers try to follow to protect your videos with a secure live streaming solution, let's take a look at the best seven ways to do so:
Advanced Encryption Standard Encryption->
Advanced Encryption Standard or AES encryption method is used to encode the information that can be only viewed by authorized users. In this encryption method, a special key is used, without which the video can't be viewed. This is a very simple and easily implemented process.
HTTPS Delivery->
Whenever a user uses an open network at a public place, they are prone to certain attacks by hackers looking to steal data that is being transmitted to such users. HTTPS Delivery utilizes HLS encryption to prevent such attacks by using digital certificated and encryption keys.
Password-Protection of Videos->
As simple as the name suggests, this method simply uses a password being set for the video. A user needs to have the correct password in order to be able to watch said video content. It is an effective method despite its simplistic nature. Keep changing the password from time to time and stay ahead of any leaks or risks.
Secure video paywall via SSL/TLS->
A secure video paywall that uses SSL/TLS encryption can protect the user's payment information from being stolen while also allowing you to monetize the video streaming and accept multiple currencies and cards.
IP Restrictions->
IP restrictions or geographical restrictions are a good option for content that is meant to be targeting audience from selected regions by allowing you to block certain "risk-zones" that usually generate most of the data-theft attempts.
Referrer Restrictions->
Referrer restrictions are pretty useful as they allow only selected domains to stream the videos and restricts playback on any other unauthorized website.
Content Delivery Network->
Content Delivery Network or commonly known as the CDN is a network of servers that runs secure video data centers to store the video files online. A live-streaming CDN enables the video content to load faster. Online video platforms that use a CDN are very effective against several kinds of attacks and also offer protection from hardware-failure.
The main thing to understand to ensure secure live streaming is that we must employ various techniques that work best depending on our type of content, variety of target audience as well as kind of expected threats. Regular monitoring is a must so that we can stay one step ahead of the potential threats. All data and information is precious and should be protected by all means necessary.