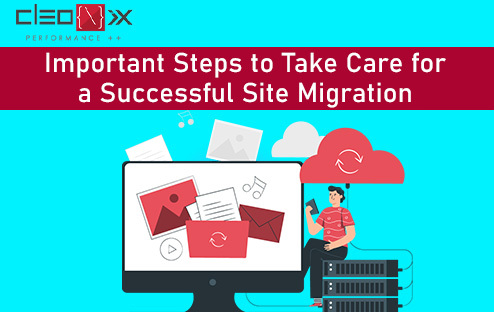 Site migration can be a daunting task, but it is a necessary one if you want to keep your website up-to-date, improve its performance, or change its hosting provider. However, if not done correctly, it can lead to a host of problems, including traffic loss, broken links, and lower search engine rankings. Therefore, it's essential to take proper care during the migration process to ensure that everything goes smoothly. In this blog post, we'll discuss some of the important steps you should take to ensure a successful site migration.
Plan the migration carefully: Before starting the migration process, it's important to plan everything carefully. This includes setting a migration date, creating a backup of your existing site, selecting a new hosting provider, and creating a migration plan.
Test the new site before going live: Before you make your new site live, it's crucial to test it thoroughly. This will help you identify any issues or bugs and fix them before your audience sees them. Testing includes checking for broken links, page speed, and mobile-friendliness, among other things.
Redirect old URLs to new ones: During the migration process, the URLs of your pages may change. Therefore, it's important to set up redirects to ensure that visitors who click on the old URLs are directed to the new ones. This will also help you retain your search engine rankings for those pages.
Update internal links: After the migration, you'll need to update internal links on your website to point to the new URLs. This will help visitors navigate your site and ensure that search engines can crawl your site effectively.
Update external links: If your site has external links, such as backlinks from other websites, you'll need to update them as well. This will help ensure that the links continue to work and that you retain any SEO value from those links.
Notify search engines of the migration: Once your new site is live, it's important to notify search engines of the migration. This can be done by submitting a sitemap or using Google Search Console to inform Google of the changes.
Monitor traffic and rankings: After the migration, it's important to monitor your website's traffic and search engine rankings closely. This will help you identify any issues that may arise and take action to fix them.
Address any issues promptly: If you notice any issues after the migration, such as broken links or a drop in search engine rankings, it's important to address them promptly. This will help you maintain the integrity of your website and ensure that it continues to perform well.
Communicate with your audience: Finally, it's important to communicate with your audience about the migration. Let them know why you're making the changes and how it will benefit them. This will help build trust and ensure that they continue to visit your site.
In conclusion, site migration can be a complicated process, but with proper planning and execution, it can be a success. By following the steps outlined above, you can ensure that your site migration is smooth, and your website continues to perform well. Remember to test thoroughly, update your URLs, notify search engines, and monitor your traffic and rankings to ensure that your website stays on top.
ALSO READ: Everything You Need To Know About Virtual Private Network (VPN)