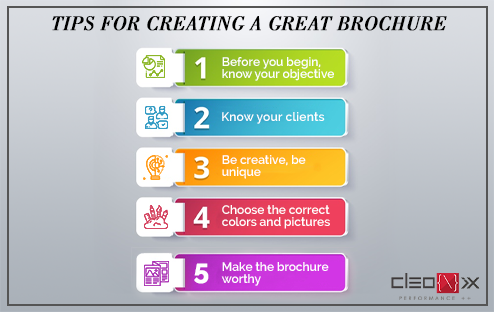 A brochure is an informative paper document which can be folded into a template or brochure. A brochure may also be a collection of associated unfolded documents that are placed in a packet or pocket folder.
A strong brochure can educate its readers, provide the business with strong credibility and power, boost target audience, and convince customers to act. The creation of a quality brochure is a challenge for many graphic designers.
Below are 5 tips and tricks on how to build the best brochure design for your brand:
01. Before you begin, know your objective:
It's essential for you to know what it's for to make your design efficient. The brochure's aim will point you in the correct direction. Get as much data about the brochure's purpose so you can select the design for it correctly. It is essential to note that this is a design for interaction. All you placed in the brochure is direct communication with your audience.
02. Know your clients:
Because a brochure is a communication instrument, knowing your target market is essential. This way, you will be able to capture their interests. The more you identify on the brochure the demands and desires of your target market, the more efficient it will be. When you think about how to design a brochure, hold the objective in mind.
03. Be creative, be unique:
Simple thoughts are the best. To distinguish you from your contest, creativity is essential. Uniqueness is essential in this moment and age when designers ' level of creativity is stunning.
Aim for an initial and distinctive design. It is also essential to recognize its uniqueness.
04. Choose the correct colors and pictures:
People react differently to colors. Some hate a specific color on sight while others are going to pick up a brochure because of its colors.
If the business has signature colors, use them just like fonts. And then use the trademark colors to branch out to distinct colors and tones. A pictureless brochure is a boring leaflet. People are creatures of vision. If we look at something lovely, fascinating, or enjoyable, we tend to get more attracted. And text messages give this appeal rarely. But there are pictures.
05. Make the brochure worthy:
The goal for a long-lasting design. This implies selecting the correct fonts and colors, using quality paper, and adding precious content. Something should be in the design that can boost its value and make it worth holding.
Hope you like this post on graphics designing. Other posts related to graphics design can also be read on our blog. If you like the post, then definitely tell in the comment box and give your suggestions. So we can do even better with our content.