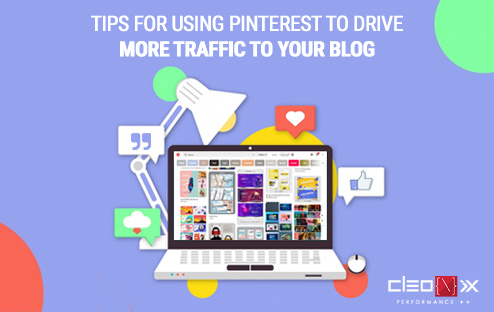 Pinterest can be a great social platform to drive traffic towards your blog. Pinterest provides ample potential for gaining exposure in the online world. If used properly and effectively, one can market its products and services to a large audience at one go. Below is an insight into 7 ways how Pinterest will help you achieve your goal.
1. Create a Blog Resource
Pinterest is the right place to manage your content like articles, studies, posts, and pictures. Here you can create secret boards that can only be seen to you. These boards can be a storehouse for your future blog post ideas, pictures, quotes, videos, etc. Let it be a single blog post or a series, you can use this option to curate ideas.
2. Knowledge Powerhouse
The content on your blog should be unique and fresh. Pinterest is the right place where you can get such content. You can find trending topics, relevant keywords, and pictures that can be useful for your blog. Use the search option to know what kind of posts interests users and receive a lot of re-pins and comments and add such kind of content in your blog. Images are another way to create remarkable content.
3. Trending topics for Popular Blogs
If you know what is in trending on Pinterest, you can simply use them as a theme for your blog post and pin it to your boards. Homes, Arts and Crafts, Fashion, Food, and Travel are a few popular topics that users keenly follow and re-pin. Create or connect your topics to such popular content to make sure people will read your blog posts.
4. Build a Great Rapport with Pinterest Users
Use a photo or video of a potential customer or pinner and give him/her the credit, to build a good relationship with other users. The pinner might also reciprocate by writing about you in his/her blog.
You may like: Ultimate YouTube Marketing Strategy To Increase Your Website Traffic
5. Remember the Images
Make sure your posts carry a relevant and attractive image to grab the attention of the pinners. You can pin the image and direct the users back to your blog by embedding a link with your pin. Place a 'Pin It' button below each image and help the reader pin the images in your blog. Also, place the Pinterest Follow button to allow new readers to follow you just in one touch.
6. Influencers who Help You
Follow popular pinners in your niche. You can like, re-pin and comment on their pins and increase the likelihood of them doing the same for you. Associate with the influencers in order to increase your popularity.
7. Call to Action in Your Pin Descriptions
Write some catchy descriptions for your pins, add the proper URL and a call to action button follow it. Surely, It will lead to more traffic to your blog or website.
So, what steps do you want to take to attract more traffic to your blog? Share with us in the comment section below!