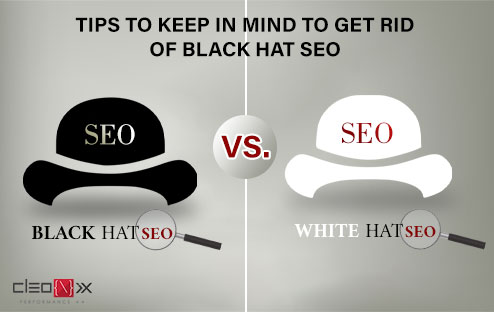 There are two types of search engine optimization. "White Hat SEO" where you follow the guidelines of the search engines, keep the end-user in mind throughout your optimization process and put a lot of focus on relevancy to keep. Then there's "Black Hat SEO" which is, in effect, the complete opposite. Here in this blog, we will give you a guide on what tactics to avoid and what ones you need to be careful of if you have someone else performing your web development and search engine optimization.
There are many ways to the black hat that people are using to gain high rank but the fact is that these all techniques are of limited time. They cannot benefit you for long. After all, you will have to pay for applying any of these techniques. The search engine will penalize you for this. All these spammy techniques will take you to the risk to ban your website. These are the ways to get benefits in a short period to pay for a long time. Now, SEO provides you with great user experience and much more to have a great website without any kind of Black Hat SEO. There are some techniques to avoid while doing any kind of SEO.
The first thing to keep in mind is that don't over-pack your content with keywords it will surely get you penalized for it. Avoid putting too many phrases in your content that would also be irritating for readers and that is the way to the black hat with search engines, so try to avoid that.
Hiding your text by writing it in a color of the background to attract the search engine spiders is another way to black hat. So you will have to avoid that too.
Another thing that you will have to avoid is the Doorway pages. These are fake pages for search engines to make them fool to get high ranking and traffic on their pages or websites. Users cannot see these pages ever as they are not for them. So avoid it too.
There are many other things that you will have to ignore or avoid like cloaking that is a technique to show different versions of contents to search engines and this is an unfair way to do it.
Putting unrelated pages or links into your website or page will make your website look ugly and this will decrease your website's rank as well.
Code swapping is another way of black hat that you will have to avoid. This is a technique of making your website only in a text version for the search engines to get high ranking that is also illegal.
So if you don't want to be penalized then you will have to avoid all these points or characteristics of black hat SEO.
As you can see that all these unethical, ugly, unfair and shaggy ways to get high rank can work but only for a limited time. Then you will be penalized for what you have done for a long time as the search engines will ban your website just because of these unethical practices. It's just not worth the risk. So for long-lasting benefits, you will have to prefer those ways that are fair and legal to get high ranking on your site. Just ignore and avoid all the messy ways to optimize your website. Try to make fair guidelines for the webmasters that what you are up to so they will help you to get high rank with a white hat.