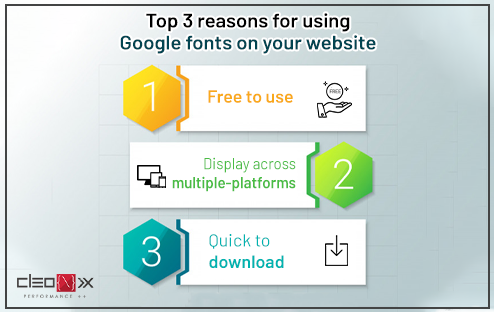 Once upon a time, when it came to web design, the selection of fonts by a web designer or developer was limited to a small group of web security fonts. When displayed on screens, these fonts do not pixelate or blur, which can often occur with traditional print-friendly fonts. This has altered now, and there is a wide range of secure internet fonts available. Great typography contributes to an excellent design. But often, getting a good custom font that appears correctly on screens comes at a cost, either with additional effort or quality compromises or even both.
Why google fonts:
1.Free to use:
The best reason to use Google Fonts over any other service, if not the most evident one, is its zero-cost price tag, allowing you to pick and use any Google font for free. A premium font may give an original look to your website, but it will also take up a huge chunk of your design budget. Worse, some font licenses are priced according to the number of website visits you receive. If you have a lot of visitors, you can easily add up to a fair amount of money.
The worst part is that once you make the purchase, you won't have the liberty to go back and attempt another font.
2.Display across multiple-platforms:
Various operating systems and mobile devices may cause mistakes in font display in some instances. Sometimes this can mess up the whole website's look by displaying distorted text. Google Fonts now supports all significant browsers and a broad variety of mobile devices. It has the fastest CDN to show fonts rapidly.
3.Quick to download:
Google Fonts has another benefit. They are much slower than other font libraries or self-hosted fonts. Each font was compressed to be downloaded more quickly, enabling web pages to be downloaded on any platform in a split second without affecting the quality of the font.
With all these benefits provided by Google Fonts, companies should really consider looking at the many fonts accessible in the Google library and how to use them.