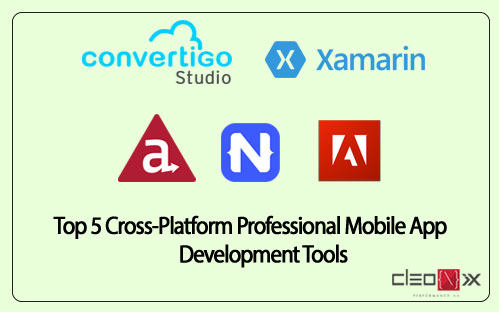 Do you know that there is a huge demand for skilled mobile app developers in the current market? Many big companies are looking for young developers irrespective of their age and education.
The mobile app development has become compulsory for enterprises reputation nowadays. The increased use of smartphones provides businesses a huge platform to connect with potential customers via mobile apps. With so many mobile devices ruling in the market nowadays, it's not so easy for developers to create apps that can work on multiple platforms.
Over the past few years, the popularity of cross-platform mobile app development has increased in a grand manner. With these tools, developers can write code once and run it on multiple platforms, including Android, iOS, and Windows. The recent statistics by Forrester says, 60% of companies are already dependent on cross-platform development. The use of Cross-platform mobile app development tools will increase rapidly
1. Adobe
The renowned company Adobe offers PhoneGap Build (cloud-based) and PhoneGap (an open source solution).
This tool can access native, specific device functions across different device platforms, using Cordova, an open-source set of device APIs. By the use of Cordova's cross-platform plug-ins and APIs, developers can build and code apps using Java Web languages such as HTML5, and CSS3. Cordova also helps developers to create an app with a single codebase. The apps that are created once can be used on all computing devices- be it iOS, Android or BlackBerry.
2. Appcelerator
Appcelerator is a privately held mobile app development company based in San Jose, California. It follows the rule of "write once, run everywhere" and offers a single JavaScript codebase for its applications. Apps can be created with just a few lines of coding using Appcelerator. It supports real-time mobile analytics and it is generally used to make Android, iOS, browser-based HTML5, and Windows apps.
3. Xamarin
Xamarin is also a Microsoft-owned company of San Francisco, California-based founded in May 2011. Xamarin is a kind of cross-platform app development tool that offers several awesome features like, the power to add components directly from an interface, native API access, combination with backends, and forms interfaces for sharing the code. This tool helps developers to create build-in apps for multiple platforms (Android, iOS, and Windows), with a single shared C# codebase. Xamarin has been used by numerous big companies, including IBM, Foursquare, and Microsoft etc.
4. NativeScript
NativeScript is associated with Visual Studio Code and it empowers developers to build the cross-platform build-in mobile apps from a single JavaScript codebase. This open-source framework helps developers to handle everything such as Angular, TypeScript or JavaScript and native platform API. The structure part and coding style of NativeScript apps are quite similar to HTML-based web apps.
5. Convertigo
Convertigo is one of the most advanced Open Source Mobile App Development Platform and Mobile backend as a Service for Enterprises, This platform works in for ways – Convertigo Server, Convertigo SDK, Convertigo Studio, and Convertigo Cloud. It comes with many features like Development studio based on Eclipse, Cross-platform Mobile rendering engine for iOS, Android, blackberry and Windows Phone, Automatic updates of mobile applications on user's devices and many more.