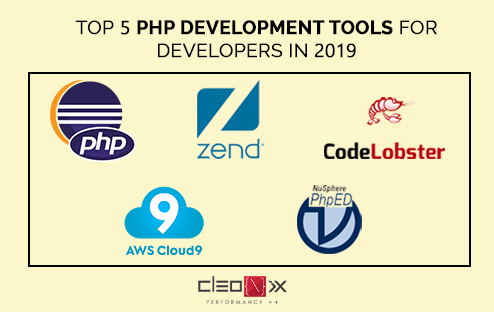 In this blog, we will discuss some of the PHP development tools help us in developing great web apps:
1.Eclipse: Eclipse is one of the most popular of the PHP tools. As it is a fully developed tool, it is a commonly used integrated development environment (IDE) that PHP offers. The most impressive part of this tool is that it offers support to some of the most popular operating systems, like Windows, MacOS, and Linux. Eclipse allows the users to use some of those specific plugins that will help in extending and customizing the IDE to fit into the requirements of the project.
2.Zend Studio: Zend Studio finds a way in our list of best PHP tools because of its matchless speed unlike any of the other PHP development tools. When using the Zend Studio, programmers and developers can enjoy the flexibility of writing and debugging code without the need to put extra time or effort to achieve the same.
3.Code Lobster: One of the most portable IDEs for PHP is Code Lobster. It offers vast support to a wide range of popular PHP frameworks and even CMSes. Some of the best CMS frameworks include CakePHP, Drupal, Joomla, Symfony, CodeIgniter, WordPress, and Magento. Programmers can now write customized web apps in PHP inserting in useful features, such as autocomplete, syntax highlights, debuggers, SQL managers, code validators, etc. with Code Lobster.
4.AWS Cloud 9: With AWS Cloud 9, you have the autonomy to use more than one widely used web technologies that include PHP. The programmers can write, debug, execute and run PHP code in any web browser. AWS Cloud 9 is a PHP development tool that offers you with the experience of writing web applications in PHP, which are not dependent on servers.
5.PhpED: PhpED is considered to be one of those strong PHP development tools available. It also supports PHP 7.1, there is also a big support to CSS3, JavaScript, and HTML5.
"Cleonix Technologies" is a Kolkata based Web development company specializing in Website Design, Graphic Design, Web Development, Digital Marketing, Search Engine Optimization. We use PHP, WordPress, CI for creating websites.