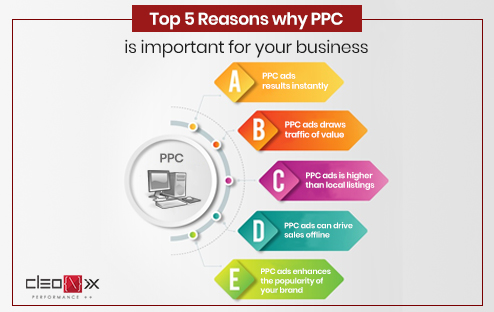 PPC stands for pay-per-click, an internet marketing system where advertisers pay a fee every time they click on one of their advertisements. Essentially, it's a way to buy visits to your page instead of attempting to organically "earn" those visits.
Advertising for search engines is one of PPC's most popular forms. This allows marketers to bid for ad placement in the sponsored links of a search engine while searching for a keyword-relevant to their business offering.
PPC advertisement is often referred to as Google advertising, search engine advertising, or pay-per-click advertising. On Google, PPC ads appear above the results of the organic search.
1. PPC ads results instantly:
Like most PPC advertising marketers and business owners, one of the benefits–it's fast. This produces results immediately. You can market the thousands of people you're looking for. This is the key difference between PPC marketing advantages and SEO advantages. Instant gratification is provided by PPC ads.
2. PPC ads draw traffic of value:
The highest traffic is traffic on search engines. Why? Because people are searching for the problem that you are solving. You can use your company to "pull" traffic. You don't have to "drive" out advertisements to persuade people to buy. Your products and services are already popular in search of traffic.
3. PPC ads are higher than local listings:
PPC types for ads are better than organic lists. You have more tools to help you achieve better results. Such options help searchers add more value. A few examples would be the ability of your PPC ads to download call monitoring, website links, and customer reviews.
4. PPC ads can drive sales offline:
Offline sales can be powered by PPC ads. If you have a physical location, after seeing one of your ads, your customers are likely to enter your shop. Although the transaction was not carried out online, they began their journey with an online search. When consumers rely on search engines to direct their purchasing decisions, this phenomenon is likely to increase.
5. PPC ads enhance the popularity of your brand:
PPC marketing is going to build brand equity. PPC ads, in other words, can help people become conscious of your brand. Awareness is important because visitors to your website may not always be willing to buy. Nonetheless, they can purchase in the near future by being aware of your offers.
In fact, it's more intelligent than other forms of advertising and it increases your brand recognition. In your business, it is advisable to use PPC. We, Cleonix Technologies, are a web development company specialized in all web development and digital marketing strategies in Kolkata. To produce an amazing outcome, we collaborate with companies of all shapes and sizes. If you think it's time for your company to stand out from the crowd, we can help you get started!