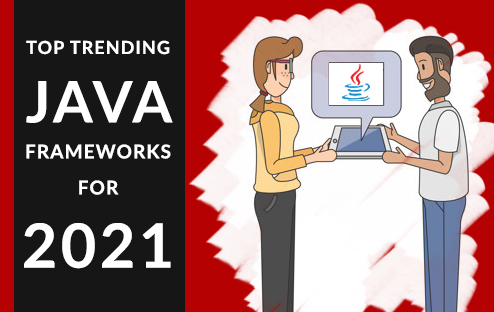 Java frameworks were very much popular in the year 2020 and so it will be in the year 2021. However, the top 11 frameworks of Java for 2021 are given below-
1) Angular 2+
This framework of Java is very important to learn for the developers in the year 2021. This framework is having the capability of providing a perfect client-side solution. AngularJS can also be used for creating the client side's dynamic web pages. It helps the developers in providing end-to-end tooling, dependency injection, declarative templates, and integrated practices for solving common challenges of development on the client-side.
2) Node JS
JavaScript is known to be the number one language for programming and in that language, Node.js plays an immensely important role. JavaScript is basically used as a scripting language of the client-side where it is used along with HTML so that it can provide a good and dynamic behavior on the client-side. It may run on the web browser but the Node.js helps it to run on the server-side.
3) Spring Boot
Previously Spring Boot was having a lot of lack in the configuration. It is very simple to write code by using this framework and it is simple like that of writing a core application of Java by using the main() method. But still, with the advancement of time, there have been many updates made and in near future, it will play an important role as it is simple and easy to use.
4) React
React is known to be another famous framework of JavaScript which is mainly used for building the user interface. It may be similar to that of Angular but is maintained by Instagram, Facebook, and a community of individual corporations and developers. Large web applications can be created easily by web developers. Hire dedicated developers and it will help in changing over time without even reloading the page.
5) Bootstrap
Bootstrap is a web framework that is front-end and open-source. It helps in designing web apps and websites. Bootstraps help in providing design templates that is CSS-based for buttons, forms, navigation, typography, and other components of the interface. Responsive web design is supported by Bootstrap and so it can be said that there is a dynamic adjustment of web pages that depends on the screen size of the web browser. This is leading by its philosophy of a mobile-first design approach.
6) jQuery
The client-side scripting is very easy by using this jQuery framework of Java. Doing animation, sending HTTP requests, reloading pages, performing client-side validation is possible by writing a few lines of codes.
7) Spring Security 5
In the year 2021 security will be a very important factor for each and every business owner. It is very essential to update with the latest Spring Security in the year 2021. The new version of it will be having a completely new module of OAuth 2.0 and many bug fixes.
8) Apache Hadoop
In the year 2021, Big Data as well as automation will be the focus of many companies. So programmers must pay attention to technologies of Big Data like Spark and Hadoop. Large Data's distributed processing is allowed by Apache Hadoop that sets across various computers using simple models of programming. The design of this framework is for scaling up to thousands of machines from single servers. Map reduced pattern is basically followed.
9) Apache Spark
This is also a framework for Big Data. This engine is fast and in-memory data processing with expressing and elegant development APIs. It helps in allowing data workers to execute machine learning, streaming, or workloads of SQL that needs fast access to datasets. Spark can be used for in-memory computing for machine learning, ETL, etc to Hadoop.
10) Xamarin
Xamarin can be considered to be a framework of Java that helps in developing mobile apps in a faster way with a single code base of c#. Microsoft owns this and is gaining popularity to create mobile apps for C++, C#, and C developers. Developers who already know C language can easily grab Xamarin. The best Java development company will always hire some of the developers who are experts in Xamarin.
11) Cordova
This is known to be a famous framework for developing mobile applications. This was originally created by Nitobi. In the year 2011, Adobe systems purchased Nitobi and change the brand to PhoneGap. Then an open-source software was released by the name of Apache Cordova. It helps the developers in using standard technologies like CSS3, JavaScript, and HTML for the development of cross-platform.
All these 11 frameworks of Java is very important to learn for the year 2021. Many web development companies are there who will look into the matter of hiring specialists for each and every Java framework and a business owner must choose their developer wisely.