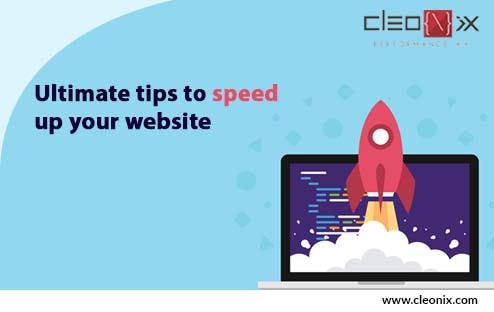 We all know how important it is to have a website that has a super-fast loading speed. In today's world, where everything has come within our finger's reach by the means of technology and its use of the internet, websites are basically acting as the channels or portals to another realm, where sits the products, services or information that one seeks to find. It is that easy for the end-user to look-up something they need over the internet and access it that much easily. A process that is almost entirely hassle-free!
Except, when they click on a website, it starts to load, and within the extra few seconds that the site might have taken to load, the consumer will almost certainly change their minds about purchasing a product or purchasing it from the same website. Now, if you have a website, you certainly will not want this to happen. Hence, speed of a website is considered as one of the most crucial factors that any business or individual needs to pay attention to.
An optimum loading speed for a website is considered to be within 1 second. Between 1 to 3 seconds, it is considered as an average speed and any longer than that, and the website tends to lose on its visitors' attention and hence, chances of conversions. That causes such a direct loss to the revenue generation for any business that conducts sales and business via the online medium (i.e. e-commerce websites). Obviously, this needs to be taken care of with a lot of website optimization work. So, what all can be done to make sure a website is running at its optimum speed? Let's have a look:
• Using an optimized server hosting: Hosting style of the server plays a very crucial role in determining the speed of the website and hence should always be optimized as per the requirements of the site.
• Utilizing the browser's cache: Whenever possible, when the browser cache is utilized to access resources, the website always loads faster as the browser isn't required to find the resources from the original source, hence making it a faster process.
• GZIP compression: A golden rule is to use GZIP compression to reduce the file size by 70%. As the reduced file size is easier to transfer from the server to the browser, the website speed is increased significantly.
• Using a CDN: CDN (or a Content Delivery Network) works to deliver content more efficiently to the users as it is a collection of web servers present across multiple locations. For this, the servers with the quickest response time or lowest network hops are selected to deliver the content, from the closest location, hence speeding up the process.
Read Also:- What should not be included on your website?
• Identifying and removing unnecessary items: Often a website has a lot of installed software and modules that might not be even needed any more. Configuration of the MySQL to decrease the cache size frees up a lot of space. Also, Apache configuration can be done to disable modules that are not required.
• Reducing re-directs: Redirects from one URL to another lead to extra HTTP requests and hence slows down the website by causing increased latency. Hence, it is very necessary to limit the redirects.
• Image optimization: You should make sure the images on your website are optimized so that they are cropped down to the smallest size possible without affecting the quality, saved using the JPEG format and have valid src attributes added to them.
• Avoid query strings from static resources: As any link with "?" in the URL will not be cached, any static URL should avoid using query strings. They can be used for the dynamic sources on the website.
• Code optimization: The code should be properly optimized to remove any kind of extra spaces, blanks or HTML comments.
While these are some of the most common and useful tips to speed up a website, there can be a lot many approaches when it comes to optimizing the website to achieve its optimum speed. Hence, it's a task best left for experts who can properly backup the existing website and then optimize it element by element to get you the desired results.
Read Also: SEO tips & tricks to better optimize Your Website