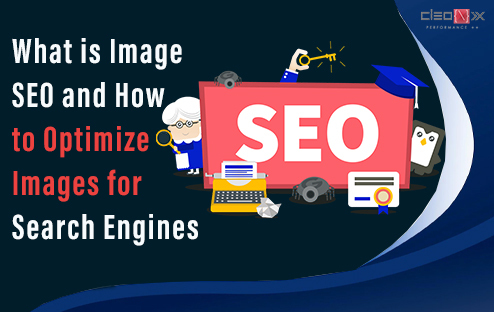 By now, we are all familiar with the term "website SEO", as it increases the visibility of a website. You can generate sales, increase your customer base, build an online brand and more, with proper SEO optimization. In fact, to achieve success in this digital world, your business website has to be SEO-friendly. But alongside web content SEO, you also need to know about Image SEO. Therefore, in this article, let us discuss everything about Image SEO and how to optimize images for search engines.
What Is Image SEO?
Image SEO is a process of optimizing your images for search engines with the help of thoughtful captions, appropriate file dimensions, alternative text, and many more. This practice makes your images more visible to search engines. It will provide the SEO boost to make your content visible under relevant search results and increase the overall visibility of your website.
9 Effective Methods To Optimize Images For Search Engines :-
1. Resize The Image
Many people often think that file size and image size are the same. But in reality, there are very different from each other. For instance, image size refers to the resolution of the image and file size is the space required to store it on the hard disk. Generally, images with high resolution require more load time. But losing the quality might not work with your audience. So, you need to find a middle ground.
2. Optimize The Image Name
Selecting the right image name is extremely essential for your website's SEO. It helps to achieve ranking among image search results. So, before uploading the image file, make sure to rename it with appropriate keywords. It will help to achieve SEO power. We suggest you include relevant keywords and separate them with hyphens.
3. Importance Of Alt Tags
Most viewers don't need a reference to understand the context of the image. But search engines are no humans. It is not possible for search engines to accurately index the file image without alternative text. Therefore, if you use alt tags, it will provide proper context to your image. In addition, with alternative texts, your image can get a ranking among search results.
4. Image Title Optimization
While working on word press, you'll notice that the image title is the same as the file name. So, you don't need to put any extra effort to change. However, in case you're are not working on word press, or the title fails to explain the file, you need to change it. Replace it with relevant keywords to get effective results.
5. Use Captions
Using captions might not have a direct impact on your website SEO. But unlike alt text and file names, captions are visible on your webpage. So, it helps to enhance the overall user experience. Most internet users often get attracted to an image because of its captions. In fact, image captions can reduce the bounce rate of your website.
6. Images Should Be Unique
If you use stock images, it won't have a substantial impact on your website search ranking. This happens due to other websites also uses the same images. To put it in simple words, just like your website content, you should also have uniqueness.
7. The Text Should Complement Your Image
This has got to be one of the most integral parts of image optimization. Most businesses upload images with proper text complements. It can have an adverse effect on user experience. So, don't forget to add relevant text that describes the image perfectly.
8. Include Image Structured Data
If you add structured data to your web pages, the search engines display your image as rich results. In case you don't know, Google encourages and supports structured data for all kinds of images, recipes, and videos. For more information, you can check out Google Structured Data Guidelines.
9. Include Site Maps
Site maps basically contain the entire map of your web page's content. So, they are essential for your SEO as they share all the information about the website with search engines. For image mapping, make sure to add URL location, caption, license information, description, title, etc.
Final Words
Image optimization is an integral part of the SEO of your website. It will help you to attract new customers, increase web traffic, and build your online brand. So, while you start the image your image optimization, make sure to keep the above points in mind.
Read Also:- 16 best off-page SEO techniques you must know