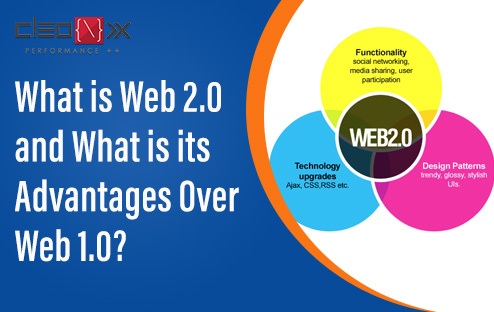 With the world evolving and so much technological advancement happening all around, the internet or the world wide web is bound to evolve as well. You might have not noticed in detail but the internet we use today is quite different and advanced from when it was first introduced. In the early years, the internet, mostly, used to have static web sites and personal sites. The interaction or the engagement of people/users were very limited. The internet was mainly used for finding information which were coming directly from the servers. This was the first generation of world wide web or as experts like to call it, Web 1.0.
It was after the year 2000, when more user-generated content and information started being available over the internet and with the rise of various social media platforms we ushered into the second generation of the internet. This new generation of the internet is what experts refer to as Web 2.0. We are currently living in the age of Web 2.0. The term was first coined by Darci Dinucci in the year 1999 and was popularized by Tim O'Reilly and Dale Dougherty in 2004. According to Tim O'Reilly, "Web 2.0 is the business revolution in the computer industry caused by the move to the internet as a platform, and any attempt to understand the rules for success on that new platform."
In more simpler words, Web 2.0 means using the internet and its various applications or tools in such a way that people can freely express themselves online and have the opportunities to share and collaborate with other people.
Web 2.0 has made our life easier. There are many advantages of Web 2.0 over its previous generation of the internet. Let us discuss them:
Web 2.0 has a read/write/collaborate format where people can, not only just read any information but also add their own version of information about a topic to the internet. People can collaborate and interact with other people. Web 1.0 allowed people to only read a piece of particular information over the internet without any sort of interaction with it.
During the time of Web 1.0, reading an article or a piece of information over the internet was just like attending a lecture. It was very one sided where you just read the information with very little to no interaction at all. Web 2.0 allows people to comment on the information or discuss in details about a article, with its author or other people over the internet, just like a conversation.
Another advantage of Web 2.0 is that it is a open sourced or shared platform. Web 1.0 mainly consisted of websites which were either commercial or proprietary. With Web 2.0's nature, various social media platforms and open forums allow people to freely express themselves without any limitation and share anything that's happening around the world.
A major advantage of Web 2.0 is its ability to serve as a storage platform. Back in the day, data, information or other multimedia files could only be stored in hard drives, CDs or floppy disks. Web 2.0 allows us to store data and information over the internet with various cloud based storage platforms and social media platforms.
Web 1.0 allowed limited amount of communication. With Web 2.0, methods of communication has also improved and increased. Various social media platforms and chatting services, now, allow us to communicate with anyone in any part of world and share data or information instantly.
These are some basic advantages of Web 2.0. If you think about it, there are many more features and advantages of Web 2.0. This new generation of internet and its various tools and applications like – Wikipedia, WordPress, YouTube, Google Maps, Facebook, Twitter, Google Docs, Drive, etc, has really had our life much easier and the overall internet experience more pleasant. Web 2.0 is very advanced and is bound to evolve even more.
ALSO READ: Different Types of Digital Marketing Techniques and Their Uses